As boat racers changed classes, upgraded to newer raceboats, and/or were getting out of the sport, many of these racing hulls disappeared. Some racing hulls may have been sold to somebody who was going to race it, but never got around to it. Or resold a few times over. Maybe put in the back of an old barn? Many of the old hulls were literally put out to pasture in the back 40. There is never enough garage space. As you can imagine locating any of these raceboats today can be a stroke of luck. Restorable race hulls are becoming harder to find with each passing year. This page will have a photo (maybe) of the raceboat, along with a few clues of information. With any luck hopefully a visitor might just know the answer to your question. And if you know what might have happened to any of these former racing hulls please pass on your information by clicking on the link to the person inquiring about the raceboat. When we do find out what became of it (dead or alive) I will add that information.

If you are searching for the whereabouts of a vintage racing hull let me know. I can place your inquiry in this section.
Another place to check for missing boats is the Wanted category over at Phil Kunz Photography as he posts up a new inquiry every month.
.
Mr. Trophy, aka Ineta Belle, aka Moonshine Baby
Blind Faith, aka Jersey Lightning
Miss Shepherd
Hum-In Bird II N-24, aka Better Idea N-190
Miss Minnesota F-441
Mai Tai N-160, aka Hals Angel Too
Poor Excuse N-91, aka Ricochet Baby II, N-111
Peggy Lou S-82
No Name on this one, (possibly be Parisian)
Third Generation F-17, aka 8 Great Tomatoes
Dixie CS-1
'Lil Miss Madison E-167, aka Predator
Ride On E-133
'Lil Mogul S-2

Mom's Nightmare N-64
Wish Again E-180 Lancer E-373
Miss Bee Bee E-4, aka Miss Amy D, E-87
Apache
Gambler II E-288
Last Blast II, E-227
Long Gone I
Wine O S-169
Shady Lady
Belle A-66
Feather
Water Bug
Just Driftin' S-10
Lakeshore Marine U-16
Tomahawk E-75

---
Mr. Trophy E-54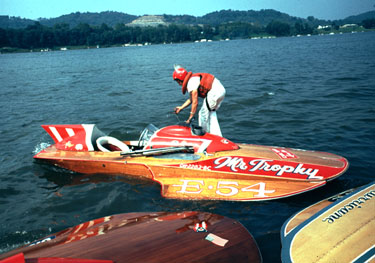 Mr. Trophy E-54 is a Rich Hallet hull and is the name last seen by me in the early 1960s.
It was originally Dal Kremer's Moonshine Baby (280 class) during the late 1950's up to 1960.
It was sold to a fellow in Lima, Ohio who ran it for a year or two under the name of Ineta Belle and was driven by Carl Ward.
Carl purchased the boat - renamed it Mr. Trophy and moved to Illinois and ran it a few more years.
I never heard of it or Carl Ward again after that. It might still be in a garage or barn in Illinois or Wisconsin. Phil Kunz Nov. 17, 2000

If anybody has information of this hull, please contact the webmaster

---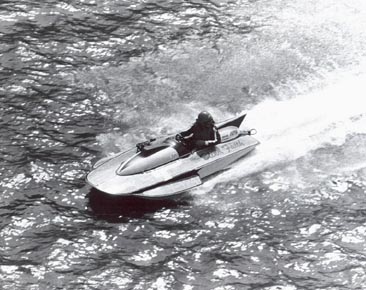 Blind Faith
Here is a project that I took on back in 1989. The boat
was a Blide hull; Gene DeFalco's, Teen-Ta-Too. The color photo is
Jersey Lightning, and the black and white is a Phil Kunz photo of Blind Faith.
These are before and after pictures, 14 months apart. I wouldn't mind having this
one back if I could find it! If anybody knows of this hydroplane's whereabouts,
I would appreciate an email.



---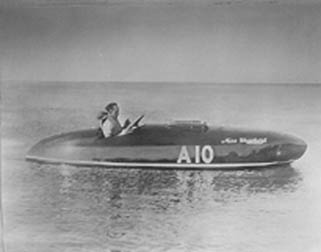 Miss Shepherd
I am trying to locate a speedboat, Miss Shepherd, built by my grandfather/great-grandfather's company in the late 1930's. This boat was built by Shepherd Boats and was named after my mother. I am trying to locate any information that anyone may have on this boat, such as race results, designer, history, etc. I have a website created which shows all the information that I have obtained. Please contact Dave@shepherdboats.com.
---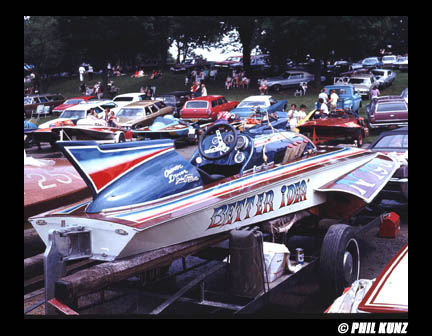 Better Idea N-190
Better Idea N-190 is a Will Farmer built and designed 225 cubic inch class hydroplane that was constructed in the 1962..
This boat was built in 1962 by Will Farmer for my father, the late Tom Cocker of Richmond, Va.. The boat was named
The Hum-In-Bird II N-24. It was one of the few Ford powered 225's hydros in the Region 4 area during the 1960's.
In 1964 my father finished second in points in Region 4 with the Hum-In-Bird II. Also, my father made it into the Gulf Oil 100 MPH Club with The Hum-In-Bird II. The last two years my father had the boat, Buddy Roper from Hampton,Va. drove it. In 1968, my father sold the boat to Buddy Roper. Buddy Roper raced the boat for two years. During those two years, Buddy Roper set the course speed record for The Tarheel Regatta in Raleigh, NC. with the speed of 81.54 m.p.h..
Buddy Roper later sold the boat to John Simon from Buffalo, NY. When this photo was taken in 1971, the raceboat was owned by John Simon and named Better Idea N-190. Last information received had John Simon selling the hull to Bob DeLong, who moved to Renton, WA. I would love to find this hydro. If anyone has any information on this race boat whereabouts, please give Todd Cocker a call at 804 262-6450.
---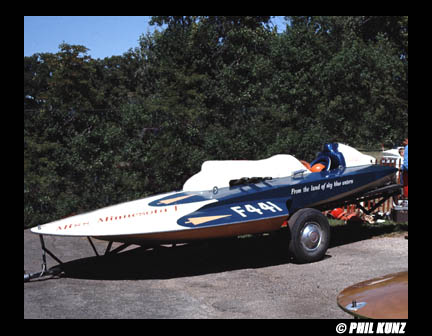 Miss Minnesota F-441
A 266 cubic inch class hydroplane designed and built by Wally Milosevich in the mid 1960's.
Photo was taken at Kankakee, Illinois in 1966.
The owner of this hydroplane was Dick Mauch of Minnesota. The hull last campaigned as Nauti-5.
---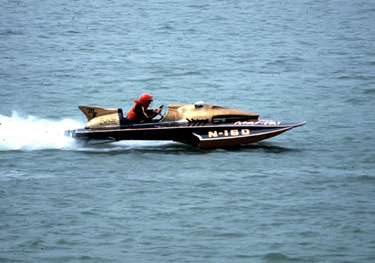 Mai Tai N-160
Mai Tai N-160 is a Lloyd hull built in the mid-1960's for Marvin Bernstein from Illinois and driven by Davy Thomas from Dayton, Ohio. It was Ford powered and ran over the world record at Dayton in 1966 or 67, only to have it not count because another boat flipped as he approached the finish line which caused the race to be stopped. It was last seen at Decatur, Illinois in the early 1970's running under the name of Hals Angel Too. We should mention the fact that this conventional was one of two Mai Tai's that were based out of Illinois that were owned by Marvin Bernstin. Phil Kunz - Nov. 11, 2001

---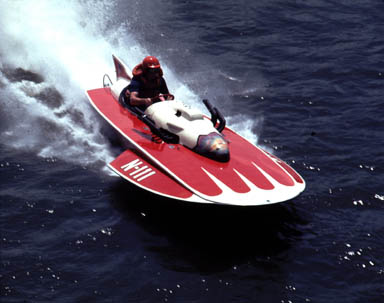 Poor Excuse N-91
This Charles Lloyd built, 225 class hydroplane was built in the late 1960's for Deon Gurine from Illinois.
This hull ran under the name and number, Poor Excuse N-91. See photo in Builders Guide Part 2 on the Phil Kunz Photography website for another photo of this hull. In the mid 1970's, this hydroplane was campaigned as Ricochet Baby II, N-111 by Stan Lake from Columbus, Ohio.
Photo by Phil Kunz
---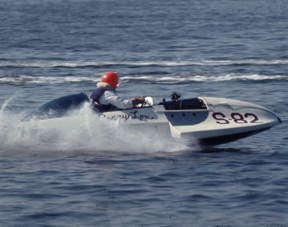 Peggy Lou S-82
This 145 cu in hydro was seen in New Jersey in the mid-1960's.
The hull type, and the owner/driver are unknown.
The racing hull was running a Ford Falcon 6 cylinder.
Photo by Phil Kunz
---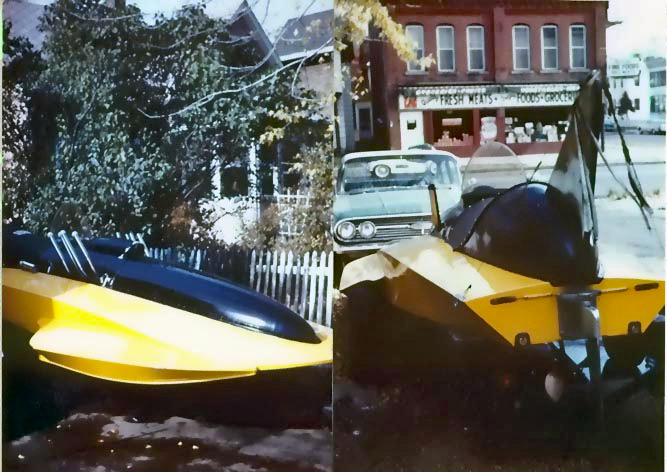 No Name on this one!
This is a hydroplane that my friend, Harvey Berquist, took pictures of in south Minneapolis around the late 1960's.
He used to visit the market in the background. He told me that he remembers seeing this hydroplane sitting in this
guy's driveway for a couple of years. Harvey liked the raceboat, and one day, went up to it and took a few photos of
it. Harvey said that he never saw this raceboat at any of the local races. He never saw the hull with any names or
numbers painted on it. I think it is an unique hull with a pretty cool set of cowlings. Phil Spruit

That boat looks like an old Hallett. I wish I could see better pictures of the trailer. I had an old Hallet/Drake raceboat
called Southern Planter and this hull looks just like this. The boat mysteriously disappeared after I sold it.
The hull looks very familiar. Tom D'Eath - June 11, 2001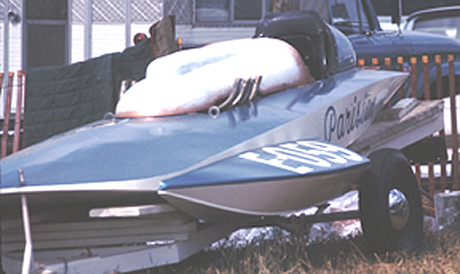 I was going thru some old negs the other day and I came across this one
of a 280 Hallet hull called Parisian. The more I looked at it, it reminded
me of the yellow & black hydro on the Where are they now? page.
I took this photo of it at Madison, WI in 1966.
Phil Kunz - Jan.1, 2003
---

Third Generation F-17
Racing hull was a 1972 Jones cabover. Buick powered 225. Campaigned as Third Generation F-17. The hull later ran as CQ-1 in the Canadian 360 class. Sold to a guy named Stanley in New Jersey, who painted it red and ran it briefly as 8 Great Tomatoes. My friend Mike Endres, veteran driver in many hydro classes is getting the Vintage "bug" after serving as a race official in his retirement from actually racing. Mike wonders if one of his past champ boats is still alive. Mike was the original owner/driver of F-17 aka CQ-1. Does anyone knows of it's location or what happened to it?
Contact Bill DeGlopper.

---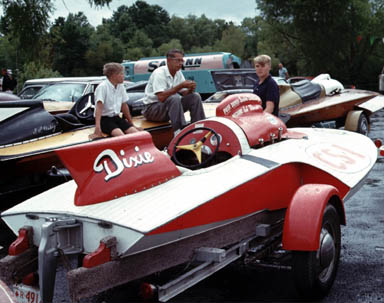 Dixie CS-1
Phil Kunz sends in this photo of the 1966 Canadian High Point Champion, Dixie CS-1 that was taken at the 1967 Nationals in Guntersville, Alabama. He's not sure of the hull design, but it sure looks similar to a Jones conventional.
Benoit Lemay sends in this information:
Owned and driven by Gaston Deschamps from Valleyfield. Dennis, (my father-in-law) would venture to say that Gaston was truly the first racer in Valleyfield of the more "recent" generation. Gaston started racing in around 1965. Russell began racing around 1966 by in the 850 class and moved up in the 145 class around 1969. I asked around and everybody thinks that the Dixie no longer exists. Gaston Deschamps died about 10 years ago.

---
LITTLE MISS MADISON E-167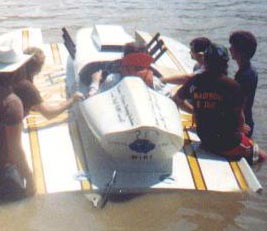 Builder: Dick Sooy 1976
Owner: Denny Jackson 1980
Raced mainly region 5 as Predator

Phil Kunz sent in the following 9.25.00:
The LITTLE MISS MADISON E-167 tore a hole in its bottom and sank before they could get a line on it.
It now sits on the bottom of the Ohio River with two other hydros that sank in different years but within 500 yards of each other.

---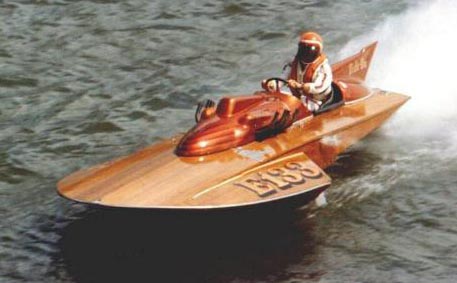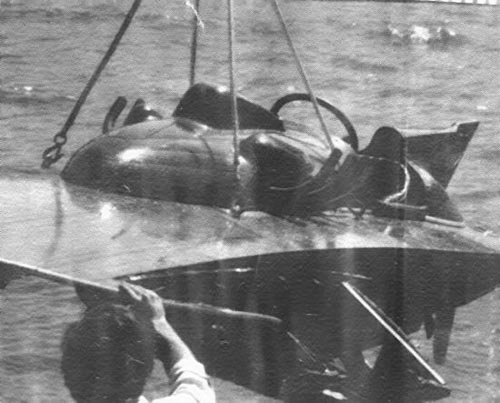 Ride On E-133
Built by Wally Milosovich for Mr. Thomas.
The last owner, Denny Jackson 1976-1981, purchased the boat from Ron Snyder 1976.
Sadly, this beautiful one rotted away outside in a farm field.

---
Lil Mogul S-2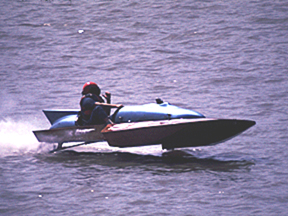 Bob Blazer's Lil Mogul S-2 is no more. I recently heard the last owner cut it up for the fire.
This boat ran in the 70's and early 80's in the 145 class. Ken Krietzer drove it most of the time,
and I swear this thing could turn in its own length. It was a very successful home built.
I drove it once and was running 3rd or 4th at the eastern division and it blew over backwards as did Joe Schulte at the same time.
It's a shame to see this happen to any good old race boat. This one unfortunately was in the hands of someone who didn't know what he had. Dick Harris

R'cd 1.16.03 from Mr. Blazer's sons:
My brother called me up today and told me he stumbled upon this website that had our Dad's old boat on it.
It wasn't more than a couple weeks ago we were all wondering whatever became of that boat.
Unfortunately, finding out it was burned for firewood isn't what we wanted to hear, but at least we now know for sure.
My grandfather also ran a boat called the Little Mogul A-21.
I can't remember the exact year, but they broke the world record with that boat in the 1950s.
It would be great if we could find out what ever happened to that boat. Mike Blazer

Photo - Phil Kunz
---

N-64 Mom's Nightmare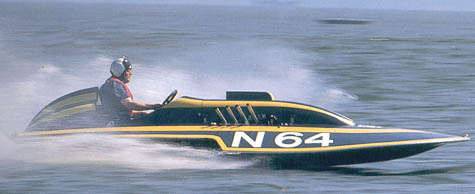 N-64 was a 1960's, 225 class hydro built by Jon Staudacher
Raced as Jim Edward's Mom's Nightmare for many years.
These are photo's of the boat as it was last pictured from the Classic Speedboats '45-'62 book.
More photos are also on the European vintage hydroplane website. Note: Boat never raced with those colors.
Anyone with any information please email or call.
Mark Weber
Mweber55@aol.com
586-725-3011 work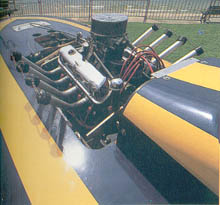 ---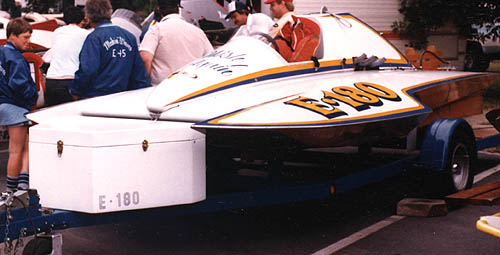 Wish Again E-180
5 litre Staudacher that was built in 1984 in Richfield, MN.
Unique features would be the joint between the bottom and the air trap had a double joint on both sides.
The water out lines ran out the back of the transom and the battery was between the drivers legs.
The trailer had a storage box between the pickle forks that was quite large.
Dick Harris sent me this photo from Kankakee one year. When the boat left me it was white with yellow and blue trim.
The name then was Wish Again the number was E-180 when it left my garage. I sold it to a gentleman from Virginia or West Virginia in 1987.
Contact Phil Mitchell at phil.mitchell1@comcast.net
Note: Phil Mitchell has found the hull

---
Lancer E-373
A 280 cu. in. (5-litre) Milosevich. It started life as a 280 owned by Skip (John) Thomas.
Then it was a 225, also owned by Skip. The name in those days was Lancer for the clothing stores owned by the Thomas family.
I replaced the deck and filled in a pickle fork repair from a previous accident in 1979.
It was a medium blue with natural ribbon striped mahogany deck wood. The number was E-373 when it left my garage.
Last known to be a river racer on the Mississippi or St. Croix rivers in Minnesota.
Contact Phil Mitchell at phil.mitchell1@comcast.net
---
Miss Bee Bee E-4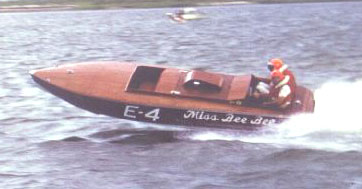 The Miss Bee Bee E-4 was owned and raced by my dad from 1955 - 1963 in Hampton, Virginia.


He sold the boat to Tom Jebson of Newport News, Va who raced it as Miss Amy D, E-87 until 1972.
I talked with Tom who stated "Sold to a young guy taking her to Florida" in 1972.

Does anyone especially in Florida have any info on this hull?
I would appreciate any information. Bob Jones
---
Apache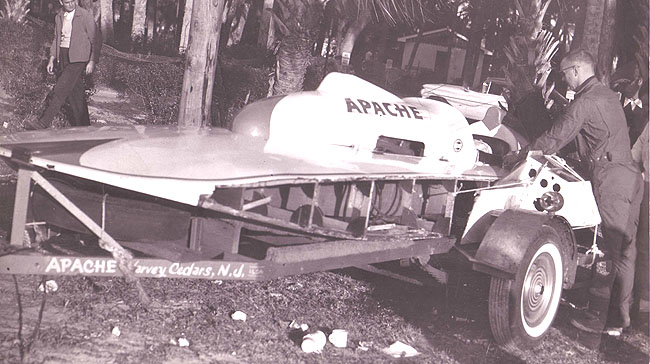 The photo of Apache had St Petersburg, FL written on the back. Year unknown.
Photo provided by APBA V&H Historian, Bill DeGlopper.

---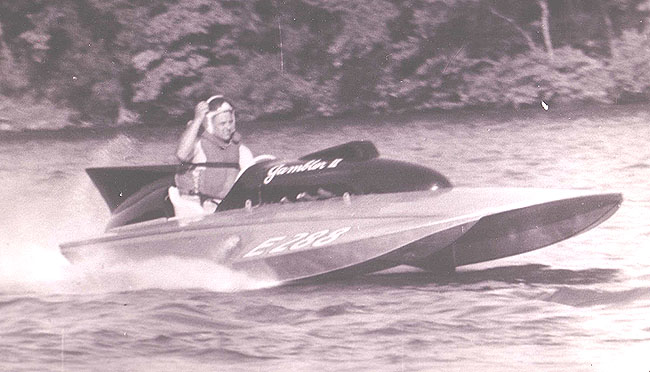 The photo of Gambler II says Bill Ruth, Norristown, PA(?).
Year unknown.
---

Last Blast II, E-227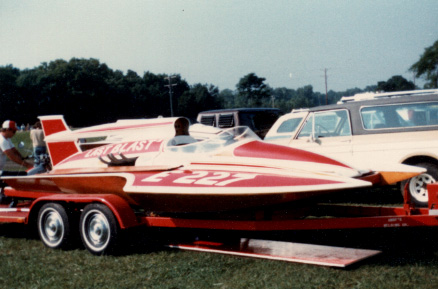 A vintage hydro fan from Canada and also current crew member for 2.5 litre and 5 liter
is curious to what's happened to the legendery Last Blast II, E-227.
Photo courtesy of the Roostertail website.
Sylvan Sauvé of St-Timothée

R'cd this response:
Paul Kovaches Last Blast had a Dick Sooy cockpit installed around 1994, and was owned by Don Stiver of Munhall, PA. The boat was renamed Gypsy Gale. The last time I saw the boat race was around 1997. I dont know what happened there after. The Last Blast was awesome. The original back cowling which still says Last Blast is on the back of Bill Denston's (Vineland, N.J.) 5 Ltr. called the Old Timer. This boat, also hasn't raced in several years. Jay Brennan E-80

---
Long Gone H-007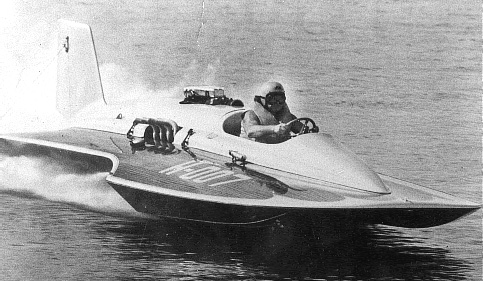 The information I have on the photo is that it is the first Long Gone, owned by Les Brown and driven by Bill Hodges.
It was a Ron Jones hull. I don't know if anyone knows if the boat is still alive and its racing history.
Benoit Lemay


Note from John Nebelecky:
I am not sure if it is the same boat, but I believe Norm Phillips from Ontario, Canada, ran one of Les' boats in later years as the Grand Prix El Bandito.

Note from Bob Foley
The world speed record holding Long Gone was wrecked in Detroit in late 1970. Tore off a sponson. Bob Boster of Poway, CA bought the remains from Les Brown and spent two years re-building her as a 7 Litre Div II, named Miss San Diego J-27. He won the 1973 Western Divisionals with her. Bob subsequently moved to Washington state and I lost track of him. I don't know if it is the same boat or not. Boster's boat was a round nose Ron Jones cabover with the same cowlings and tail fin as the Long Gone in the photo. I have a couple of newspaper clippings showing Boster's boat.

---
Wine O S-159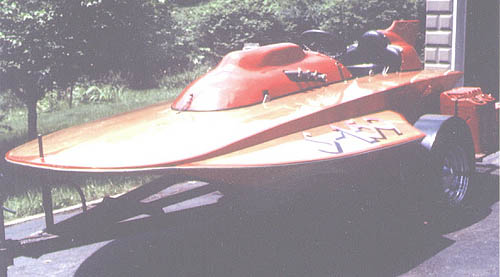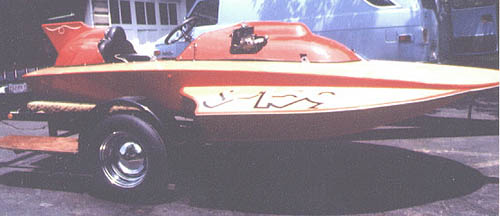 Dick Harris is looking for his old S-159 Wine-O.
He sold it to a guy from Hanover, Indiana in 1980.
If you know where it is, please call Dick at home - 513-738-4422 or e-mail: DBJMHarris@prodigy.net
---
Shady Lady
I am looking for the 150 cu in hydro Shady Lady
I owned & raced this boat in the mid 1960's. I sold it in Vancouver BC in 1967.
It is a Joe McMann hull. Falcon powered, engine pan recessed through the hull bottom. Mahogany Deck.
I would like to restore and display it. Any leads sincerely appreciated. Thank you.
Please contact:
John Carlson
3512 Marine Ave.
Belcarra, BC V3H4R8
604-931-5948
carlson44@shaw.ca
---
Belle A-66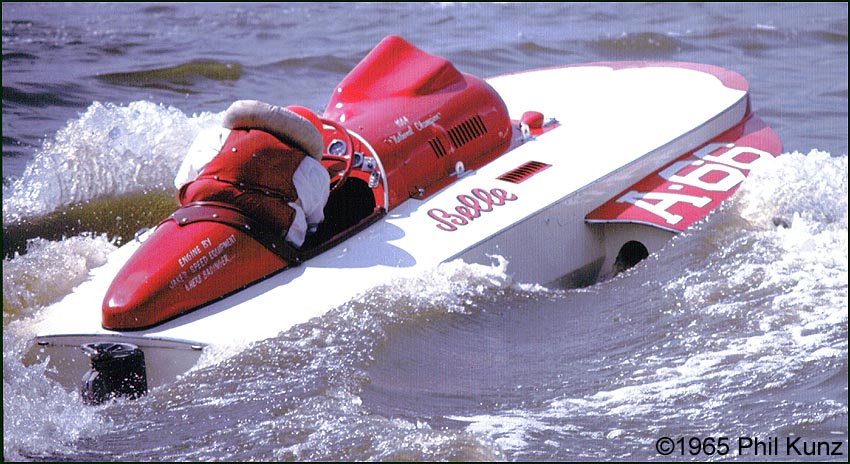 We are looking for our old hydroplane, Belle A-66
It is a early to mid 1950's built by Fred Wickens originally as 135 cu in. class hydroplane hull.
My Dad sold the boat to Gary Fritz in 1969.
Any leads appreciated! Please contact: Richard Landaiche
---

Feather N-?
We are looking a hydroplane from about 1960. George Buercher of Mogadore, Ohio had Rich Hallet build a 17 foot 225 hull.
It was a conventional but had the pointed drag boat nose. Originally it was all birch wood with a red cowling, tail, and trim.
The engine was a 215 c.i. Alum Buick V-8 built by Vic Edelbrock. The boat ran in New Martinsville in 1961 and possibly one other race.
It was too fast for George after his Ventnor 225. George passed away a couple of years later and his widow sold the boat to someone that forgot to pay her.
This was told to me by her sons that still live in Mogodore. The boat name was FEATHER. I don't remember the N number. If anyone has a picture or any idea where this hull is, please let Phil Kunz know. Thanks for your help. Rob Kaufman
---

Water Bug
We are looking for a hydroplane, Sam Guarino's Water Bug.
It was a 266 / 5 Liter class Staudacher conventional.
Thanks for any help. Jim Dernoncourt
---
Just Driftin' S-10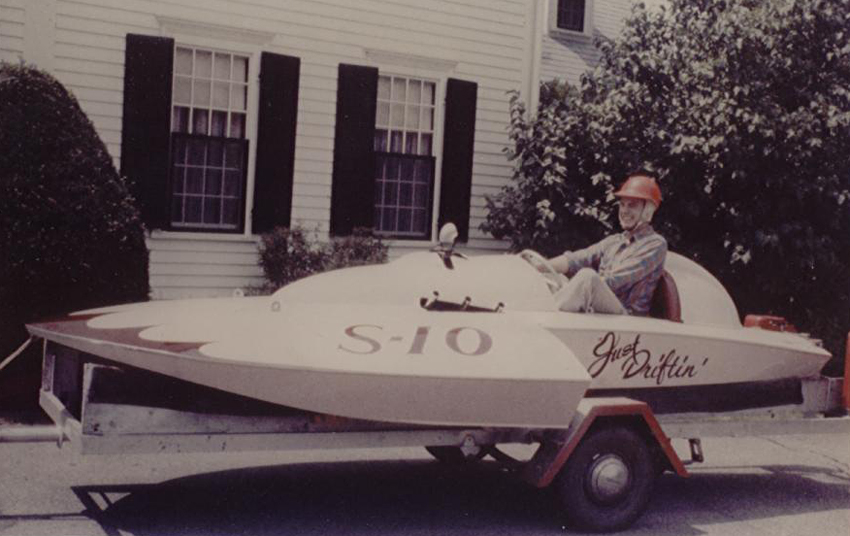 Does anybody have my old Sooy 136 Just Driftin?
I totally rebuilt it in 1959 and it was sold in 1962 due to new family and business.
If you know where it might be, would appreciate an email.
Many Thanks, Al Dean
---
Lakeshore Marine U-16
Greetings. The boat that I'm attempting to locate is certainly most famous for the mystery of it's whereabouts. The boat is the unlimited hydroplane designated U-16, Lakeshore Marine, built in 1979 by Lake Havasu City boatbuilder, Bob DeLong. Although expected to appear on the racing scene in 1979, and again in 1980, the boat never showed for any APBA event. The premier unlimited hydroplane news source over the last thirty-plus years, "Unlimited NewsJournal" chronicled the progress of the U-16 from January, 1979 through the summer of 1980, when all reports on both the boat and it's owner ceased. I have included this chronology along with two attached pictures of the partially completed hull, and of the completed boat, trailer and tow vehicle. Please help find this footnote to history and mystery! Jim Latimer lat72795@comcast.net
*
Unlimited Newsjournal - January, 1979
"Another New Boat" - by Craig Fjarlie

"If the name Bob DeLong doesn't ring a bell with you, don't feel bad. DeLong is a boatbuilder in Lake Havasu City, Arizona. He's fairly well known in limited ranks, but hardly a household word in the unlimiteds. DeLong hopes to change all that in 1979.
When the Miss Madison organization was looking for a boat a year ago, one of their options was an offer from Bob DeLong to build a new hull at cost. Madison chose the '73 Pay 'N Pak hull instead, and DeLong didn't get his big chance. Rather than wait for the phone to ring, DeLong decided to put together a boat for himself. His creation is due for the 1979 season.
At his Lakeshore Marine facility, Bob DeLong is constructing an all wooden craft. The dimensions will be 28 x 12-6. DeLong anticipates a lightweight hull, in the neighborhood of 3,500 pounds. Power will come from a single fuel injected, turbo-charged, big block Chevrolet engine. The boat has been registered as U-16.
The new hull is in early stages of construction. DeLong expects to have it ready to turn over in early March, at which time safety inspector Bud Martin will check the work. About a month later, DeLong plans to have his creation on Lake Havasu for it's first test.
If the schedule works out, DeLong will have the U-16 in Miami, with himself in the cockpit, when the season opens. He wants to take three race-ready engines on the eastern circuit, leaving three more in standby condition at the shop.
DeLong is as yet without sponsor or a name for his boat. He says individual financial backing is available if he is unable to recruit a commercial firm.
Bob DeLong's effort is the fourth new hull promised for the 1979 season."

Unlimited Newsjournal - February, 1979
"Bob DeLong will apparently have some crewmembers from the Detroit area on his auto-powered boat. One of the crewmembers has been associated with Doug McIntosh."

Unlimited Newsjournal - March, 1979
"Bob DeLong's new unlimited, being built in Lake Havasu City, Arizona, is coming along. The hull should be turned over by the time you are reading this. Three Chevy 454 engines are about ready, as is the trailer. DeLong says the boat will be set to run in about a month. He has sponsor leads, but no committments yet. He says the colors will be natural mahogany and yellow unless a sponsor disapproves. Inspector Bud Martin, who recently checked over the boat, says it is well built. "DeLong knows what he's doing", Martin adds"

Unlimited Newsjournal - April, 1979
"Bob DeLong's new auto-powered boat continues to progress in his shop aat Lake Havasu City, Arizona. While Bob has been building his unlimited, he has taken on other work, such as orders for limited boats."

Unlimited Newsjournal - May, 1979
"Construction on Bob DeLong's auto-powered boat is behind schedule. As of mid-May, the boat still hadn't been turned over. DeLong says he may join the circuit in El Dorado. Then, in the next breath, he says, "If we don't make it this year, we'll be ready in December. That's plenty of time for 1980."

Unlimited Newsjournal - July, 1979 (June, no report)
"Bob DeLong's auto-powered unlimited is coming along. The hull has been turned over and decked. Only the beginnings of any installation work on systems, though. Hoping to make San Diego"


Unlimited Newsjournal - August, 1979
"Bob DeLong's auto-powered boat is nearing completion. The hull is basically done, and one color of paint has been put on. The hull will be blue and gold, and the blue is in place. Most of the plumbing and electrical work is done. The problem is with the engines. Can they be finished in time to get the boat to San Diego? One of DeLong's employees says Bob is toying with the idea of taking the boat to Australia this winter for the Griffith Cup."
Unlimited Newsjournal - October, 1979 (No report in September)
" We extend our thanks to Bob DeLong for the photo he sent of his new boat (see attached). Bob notes that as soon as his engines are ready testing will begin.


Unlimited Newsjournal - November, 1979
"Bob DeLong's auto-powered boat (pictured in last month's edition) is almost ready to go. He has been finishing some hardware and detail work, as well as the trailer. The engine has been in the boat, but not started yet. Bob has a few other projects to finish, then will begin testing the U-16, he hopes in January. He has been talking to potential sponsors, but has nothing definate to report."
Unlimited Newsjournal - February, 1980 (No reports December '79 or January '80)
"U-16, Lakeshore Marine - The hull is painted and ready to go but thus far has not done any testing."
Unlimited Newsjournal - April, 1980 (No report in March '80)
"Bob DeLong's boat- Bob is all set to run! He has no name nor sponsor yet, but plans to be in Miami, regardless. Jerry Scheonith is helping out in sponsor search."
Unlimited Newsjournal - May, 1980
" Bob DeLong's boat - Initial tests have not been successful due to engine problems. Further tests are slated. If results are good, boat will head to Miami."
Unlimited Newsjournal - June, 1980
"U-16, Miss North Tool (*Note: Never happened, although reported). Owner-Driver Bob DeLong was expected to join the circuit in Madison. Chevrolet power and Hilborn fuel injection are the heart of this lightweight cabover."
Unlimited Newsjournal - July, 1980
"U-16, Bob DeLong...where are you?" (*Note: This was the last posting, repeated in December edition, of anything related to Bob DeLong, or the U-16, Lakeshore Marine).
---
TOMAHAWK E-75
Owner: Ernie Baxter
These are pictures of my dad, Ernine and his hydroplane.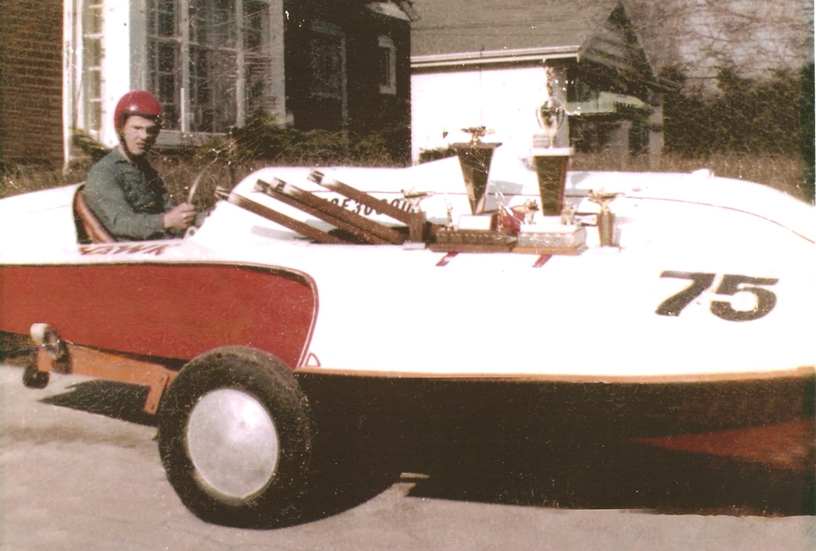 • Photo is Ernie and trophys won at Lake Muskoka, Ontario, Canada, taken in driveway in Toronto, Ontario, Canada.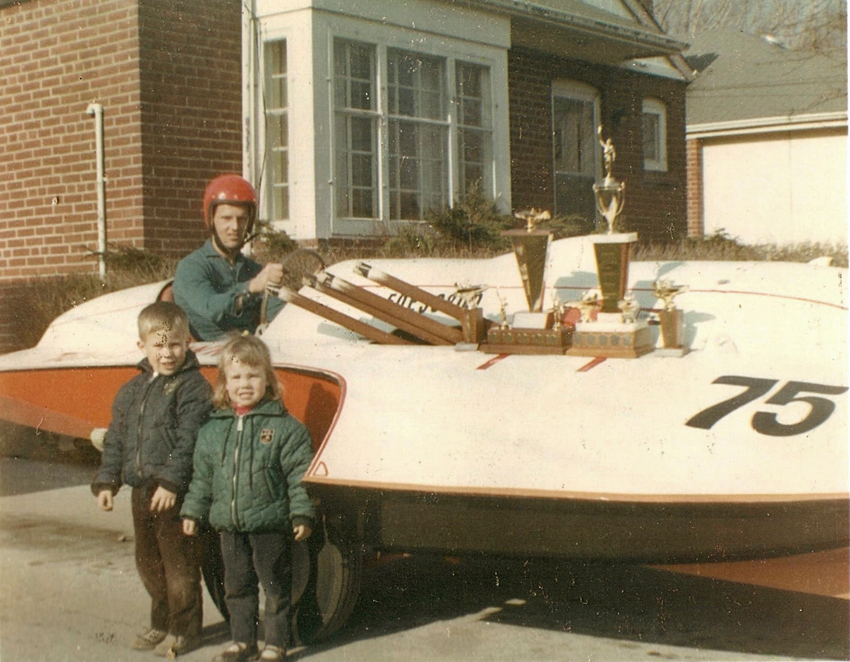 • Photo of Ernie in boat with son and daughter, Dennis and Charlene.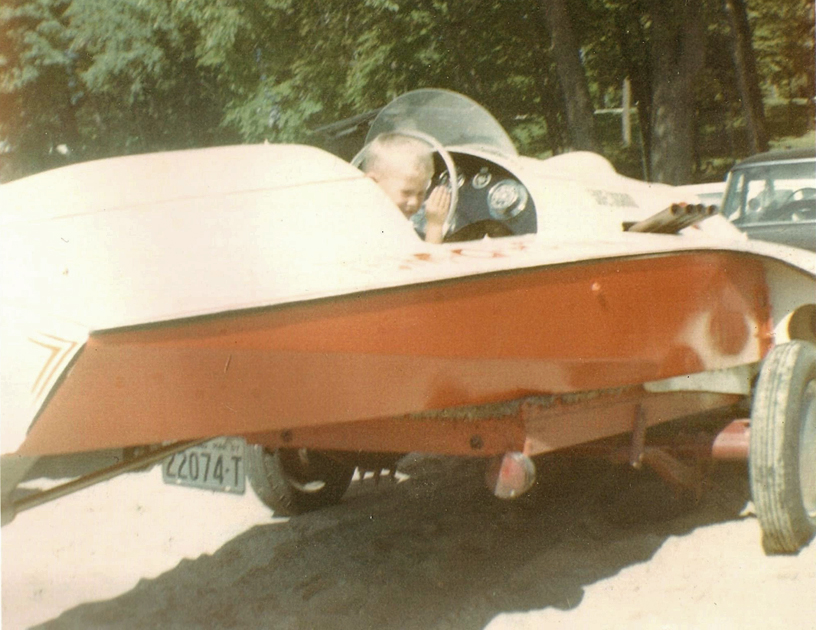 • Photo of Dennis sitting in hydroplane on trailer at Little Lake Park, Midland, Ontario, Canada in 1967.

Ernie purchased the boat in 1966 in Balm Beach, Onatario, Canada. Originally named Mystic.
Ernie re-painted white and red, re-powered with a 283 cubic inch Chevrolet, sleeved to displace 280 cubic inches, and renamed the boat Tomahawk.
Ernie raced the hydro in Upper State New York, Pickton, Onatrio, and Valley Field, Quebec. and in Montreal, Quebec at Expo 67.
He sold the hydro plane in Toronto, Ontario Canada in 1969. I haven't seen it since, despite hours of online searching.
I am proud and happy to share these photos and memories of my dad with the world. Ernie passed away in 2011 at the age of 73.
Sincerely,
Dennis Baxter