History
Rawley's Special Edition J-17 - This boat was the first of the 'new' style Jon Staudacher 7-Litres. I believe Rawley's was Kathy Staudacher family's business? Jim Kropfield was the only driver during this time period. I believe the boat's debut was in Dayton 1978 (late July), a few weeks just before the 1978 Nationals (August). The 2nd race for the boat was the 1978 Nationals (St. Pete) where it placed second.
Bluewater Special J-7 / J-1 - Chris Hall bought the boat from Jon Staudacher in January 1981 and made his first race with her at St. Pete in February 1981. She was J-7 in 1981. After winning the High Points Championship in 1981, she was J-1 for 1982.
Litre of the Pack J-16 - Mike Mammano purchased in 1982 (Oct) and ran her until 1985.
Long Shot J-10 - Bob Abbott owned the boat from 1985 - 1990 (July). They won the Canadian High Point Championship in 1987. Bob also set the Canadian competition record in ??? at ??? mph.
Jean Guy Dumas purchased the boat in 1990 (July) and ran the 1990-91 season.
Denis Rousse and Daniel Mercier bought the boat in 1992 and ran the season with it as a 7 Litre.
Daniel Mercier converted the boat to a GP and ran the 1993 season in GP.
Rejean Blanchette purchased the boat in 1994 and campaigned the boat 2 years in GP.
1996 - 2007 the boat sat until John Harvey purchased in 2007 from Allan Primeru in Valleyfield.
2010 - In January, Allen Blide came on board to finally complete the restoration project. All new frames were fabricated except for one. We still have the original right sponson that Jon modified for the Halls. It was probably the first step sponson limited hydro built in modern times.
2011 - By January the boat is complete with the exception of painting the decks (which as soon as the weather permits will be done).
---

Here is some of her championship history as I know it. I am sure there is more that I do not know about.
1981 | 1982 | 1989 | National High Point Champion
1982 | 1989 | National Champion
1981 | 1982 | Southland Sweepstakes Champion
1982 ESPN Challenge Cup Champion
1982 Stroh's Cup Champion
1-2/3 mile record holder. October 1982, St. Pete 107.411 mph
Course record holder in her class at Dayton, Miami, St. Pete, Hampton, Essex and Raleigh
Jon Staudacher built over 150 boats in his career.
His first 7 liter cabover was a round nose.
The first 7 liter picklefork was the Streaker.
Third was his radical design Rawley's Special Edition. A few interesting facts on this boat:
The engine placement is 6" offset from centerline.
First engine setup at a 6 degree angle to the transom to offset steering torque to enable him to run a larger 3 blade prop
This was Jon's first non-gearbox 7 liter.
The cowling was molded from a Jet drop tank.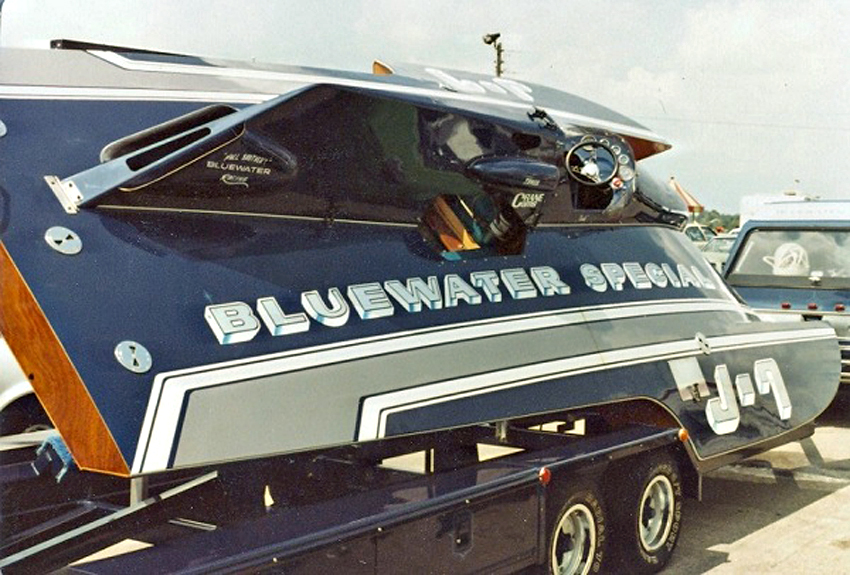 Gary Todd photo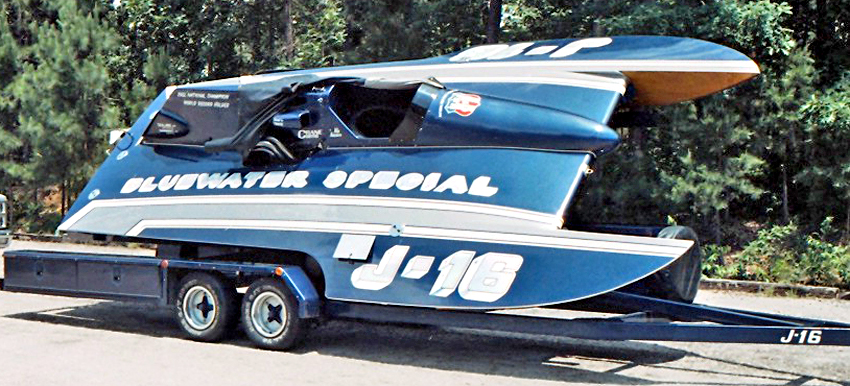 Gary Todd photo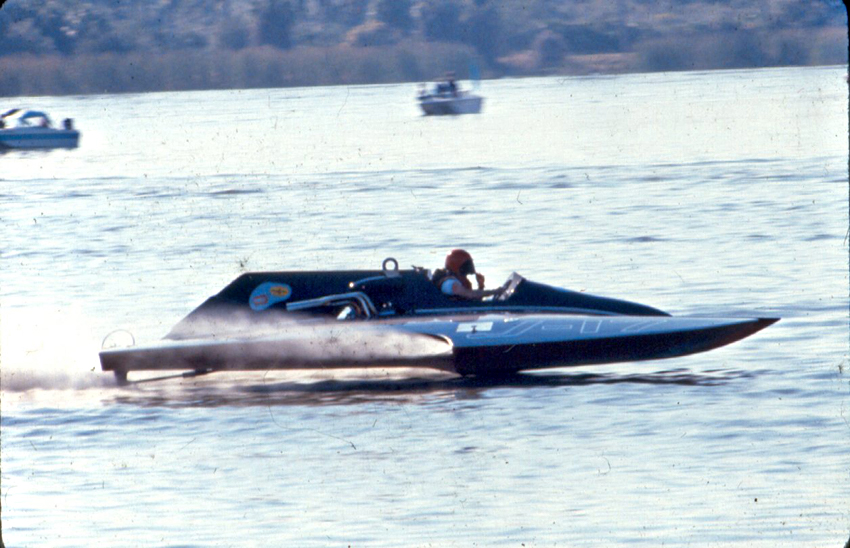 ---
RESTORATION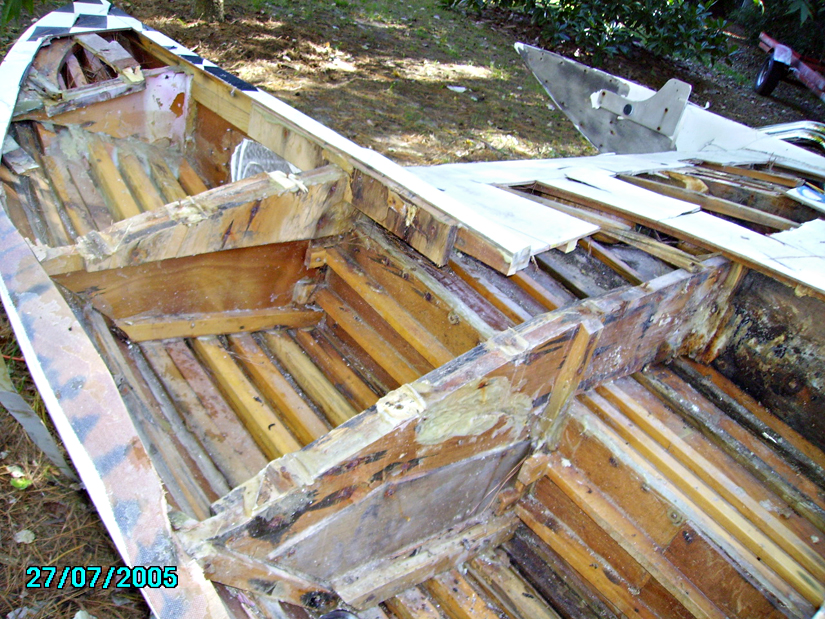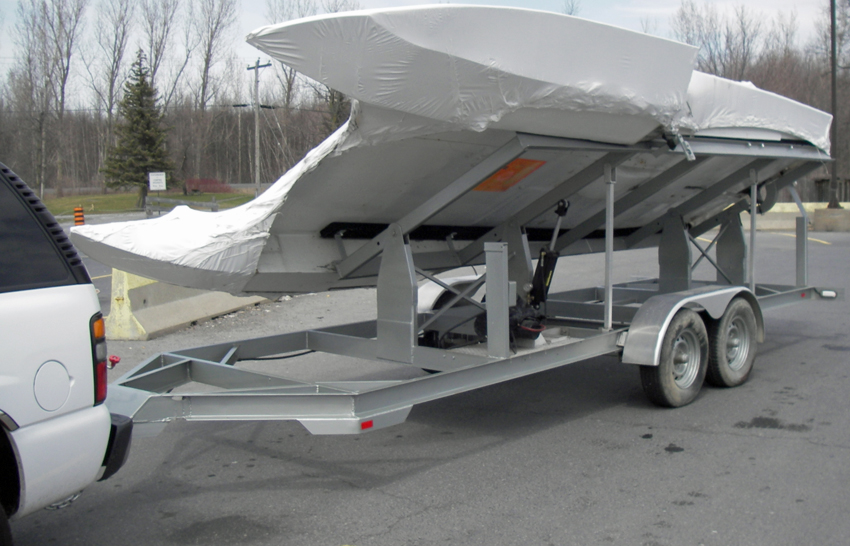 Canada in 2007.......what a journey.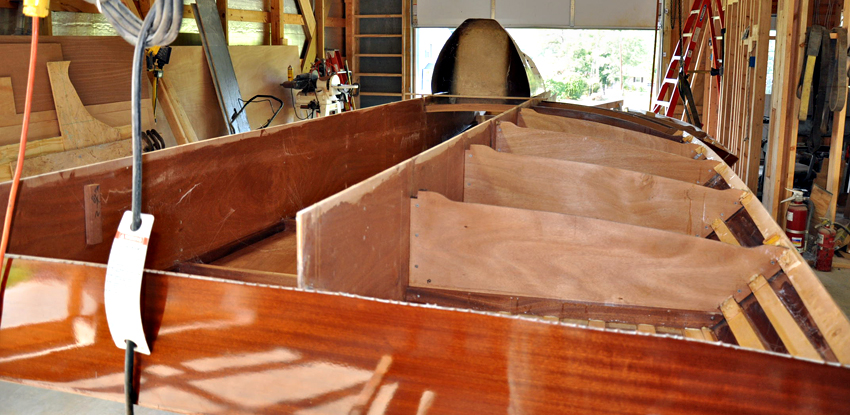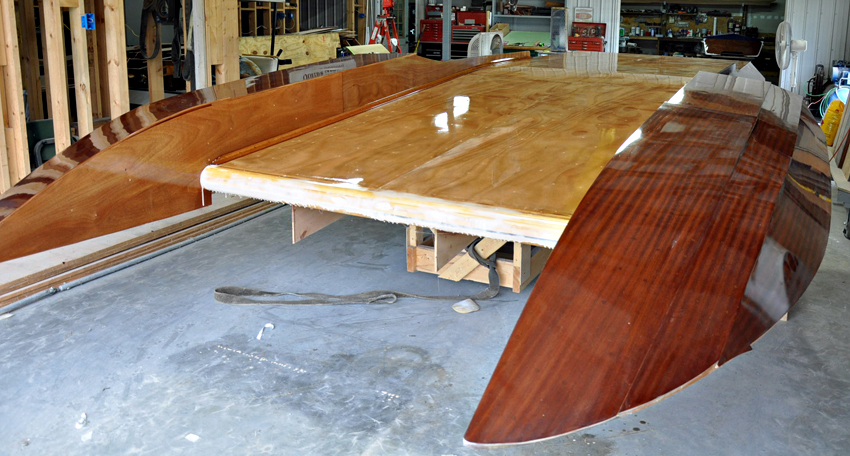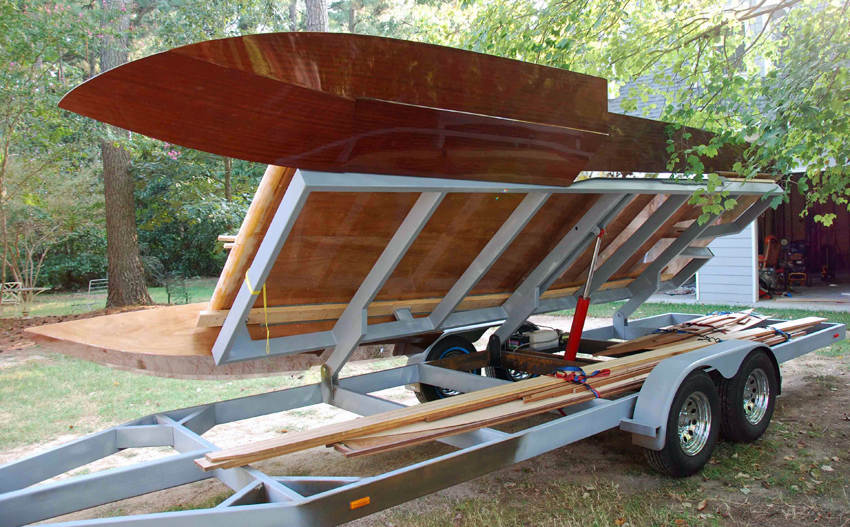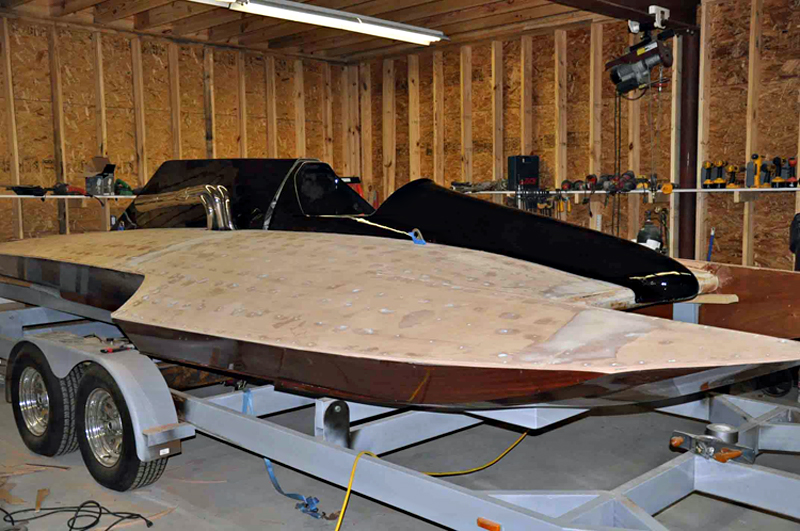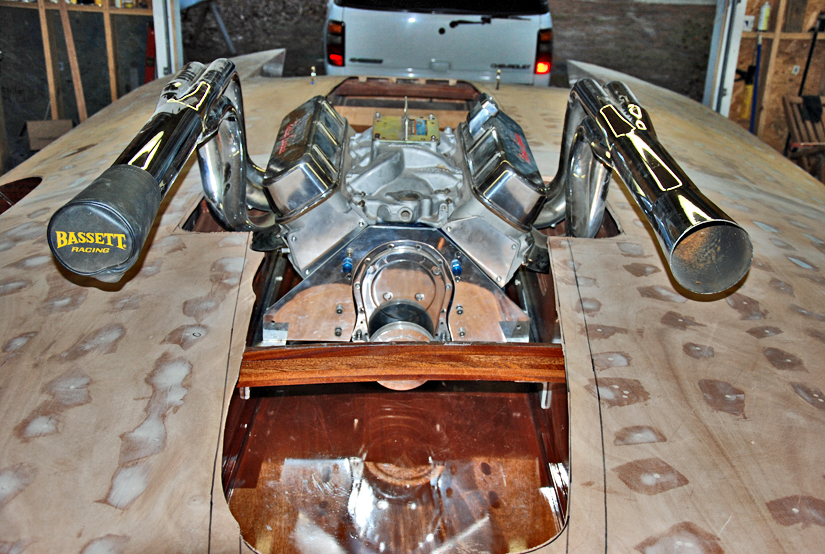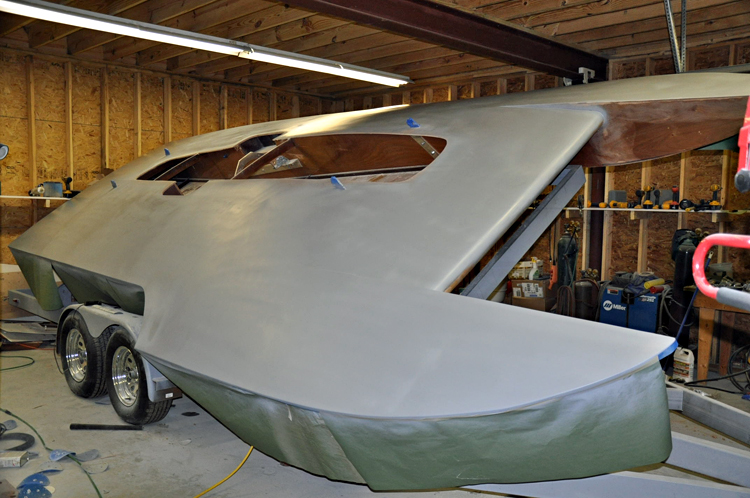 We are almost there. No more 80 grit sandpaper from here on out. Allen and I started on this project one year ago...almost to the day. Now for some blue, silver and white paint.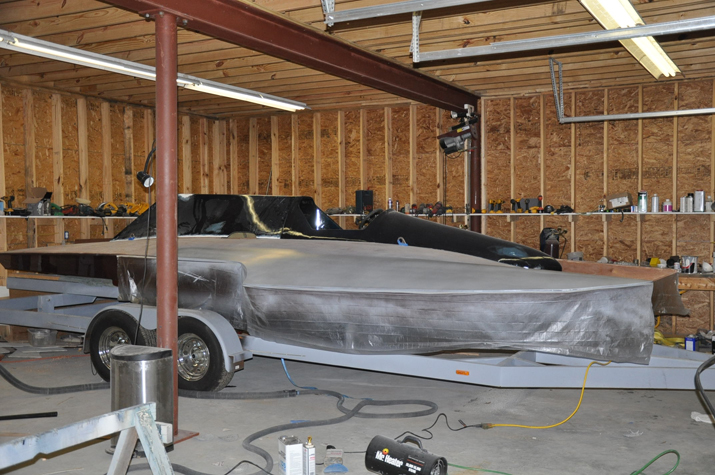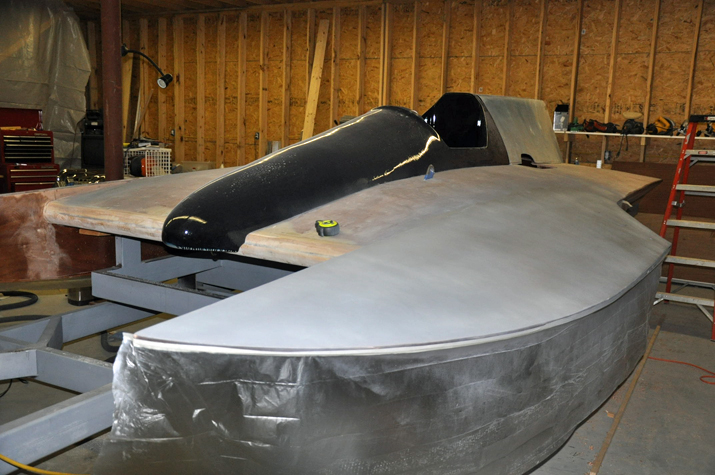 Finally getting some primer on the newly glassed decks. Cold weather is killing progress.
Decks are looking pretty good. Cowlings are fitted and front cowl will get glassed on this week.
Allen is getting the steering system together and should have the rudder and all new hardware installed within a few weeks.
I can tell you I am not looking forward to changing that gray to Navy Blue....My shoulders are already aching.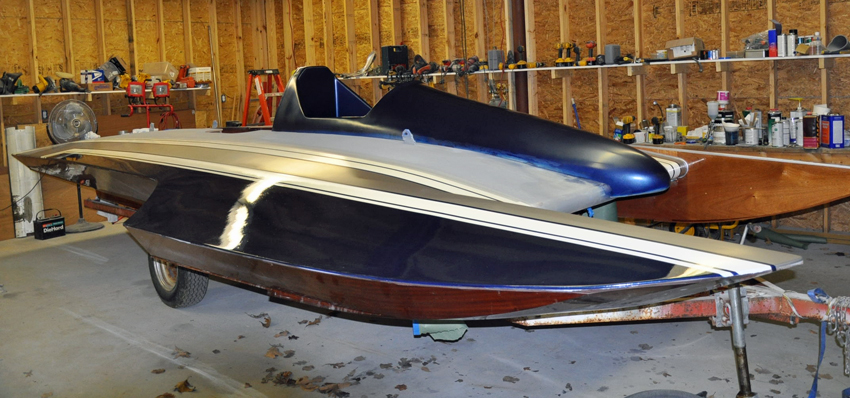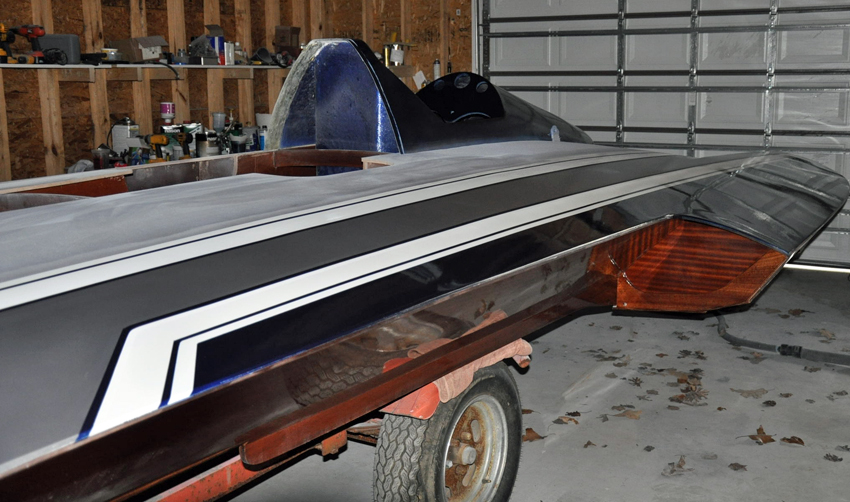 The stripes are on. Next, a final clear coat in the center section and as soon as I can mask it - the center section gets the final coat of blue. Then over to Allen's to install the steering, as that is the critical part in mounting the dry sump tank, gas tank and battery. Even in this boat it's going to be tight.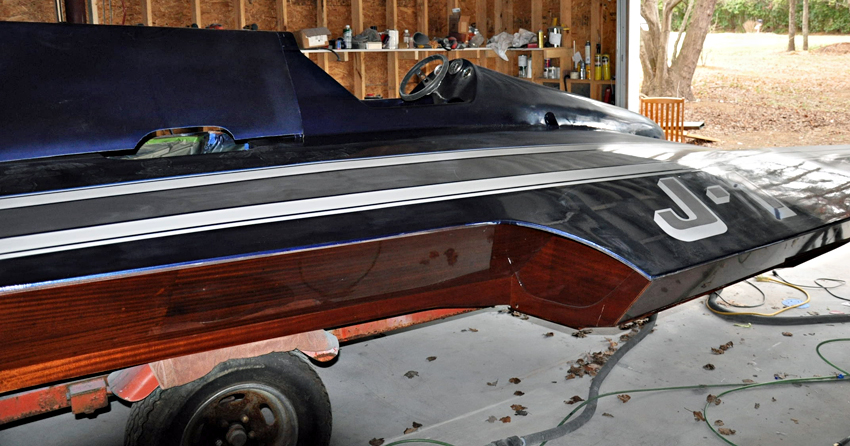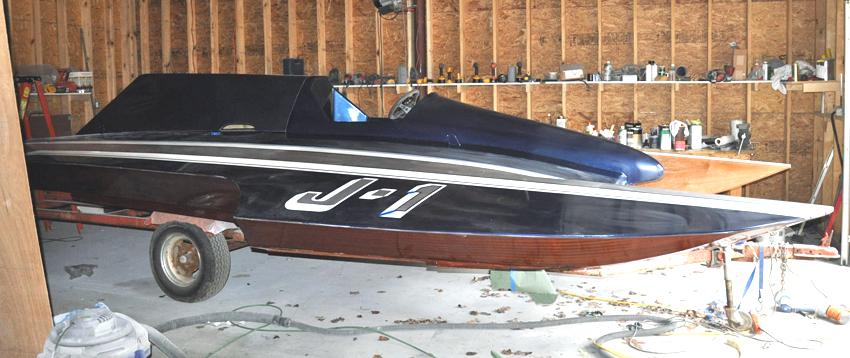 Front cowl glassed on. Now, filleting the deck joint. The trailer it is sitting on was the trailer that came with the F100. The new boat is 2 feet wider but the old trailer has worked well as a dolly.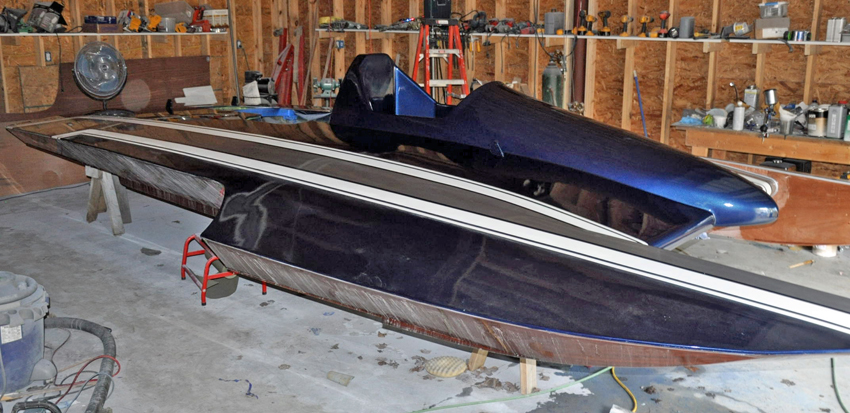 Big Blue has finally received her final coat of paint.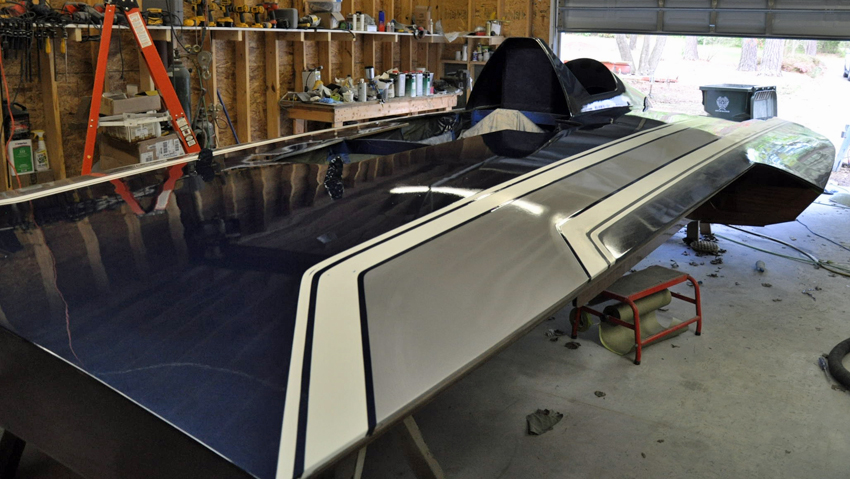 Off to Allen Blides next week to install the steering rudder, prop shaft and then back home to drop the motor back in and plumb the dry sump oil system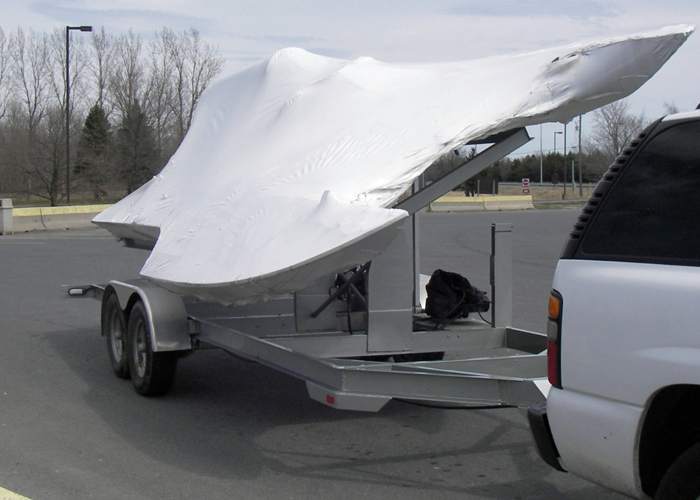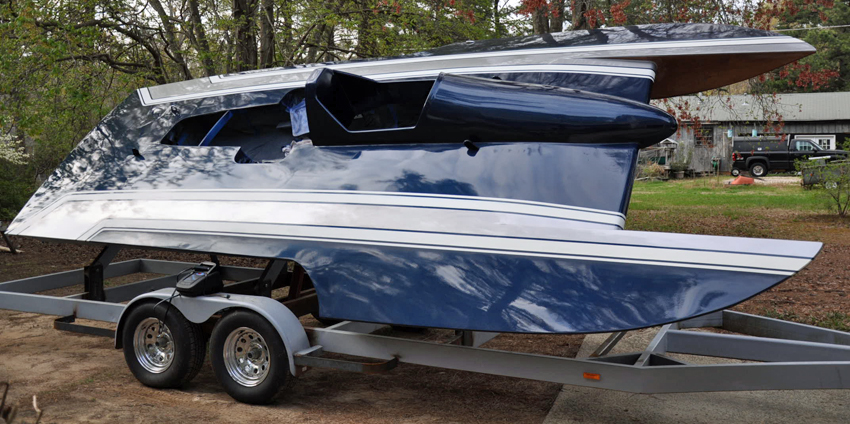 I sat Big Blue back on her perch today, just to make sure the trailer was to her liking.
The photo above this was taken was taken in Canada when I went to rescue her in 2007.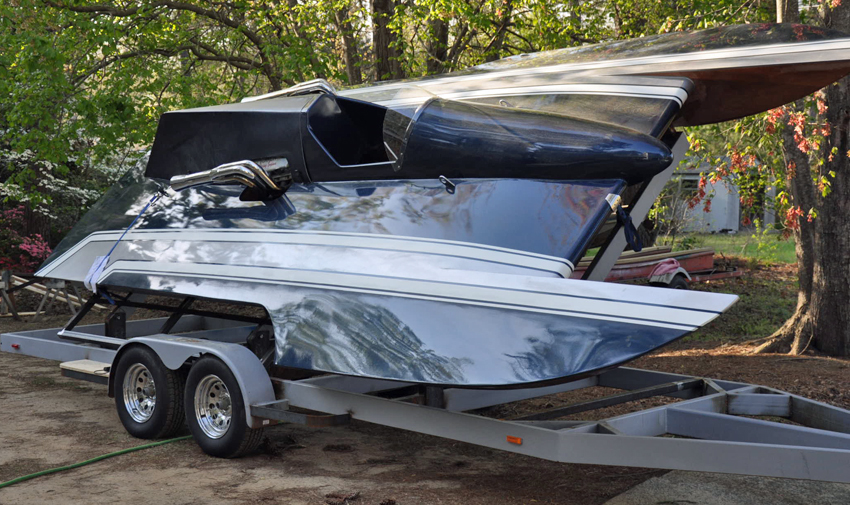 BIG BLUE is almost done.
Allen Blide is a master machinist as well.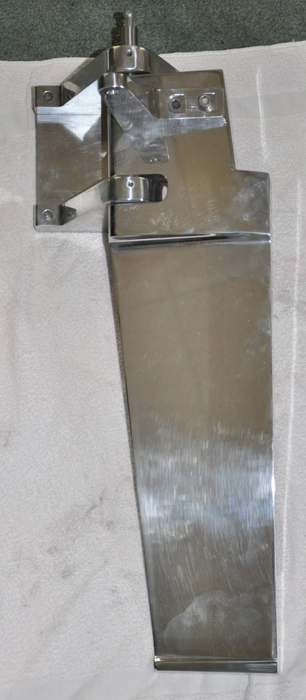 He is fabricating the strut but he sent me home with the rudder.
I spent the next day polishing - which is not the most desirable job.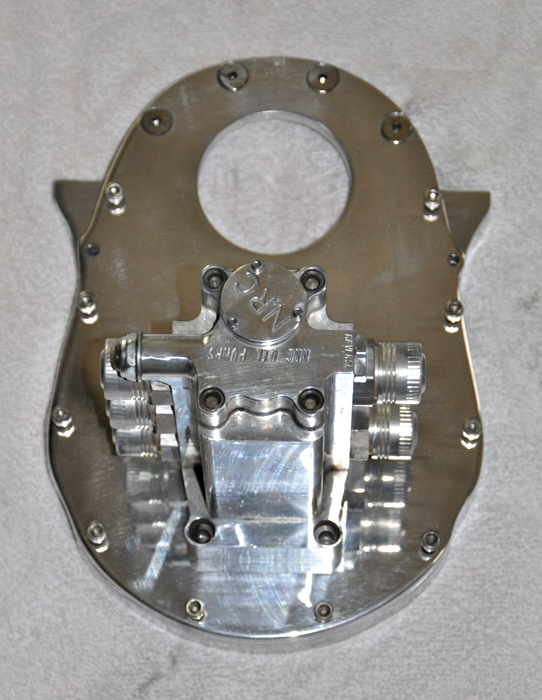 The cam driven dry sump seems bullet proof. Hope to have all the hardware bolted on soon. The steering system is by a gear box in lieu of cable. It is what was there originally. The company that made the gear box has just gone out of business.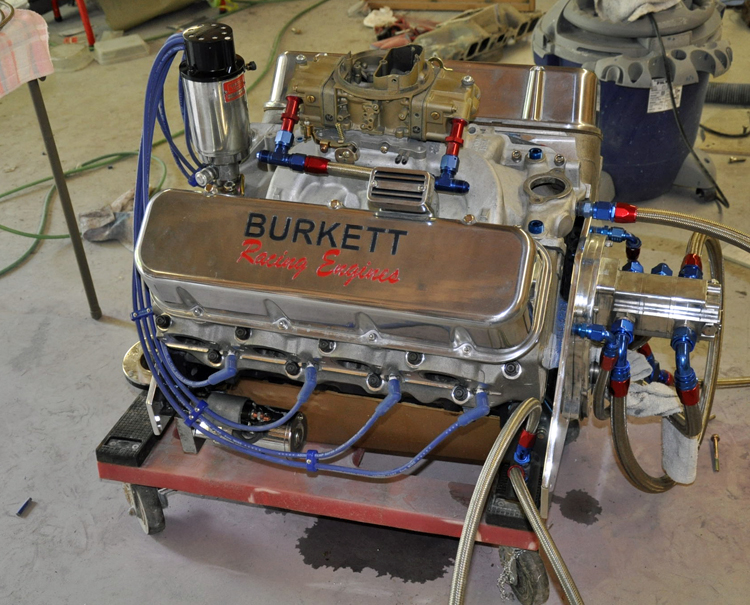 Engine is done.
Timing set, valves set, new heads needless to say on, drysump plumbed and hopefully back in the boat this afternoon to get the strut and thrust bearing aligned and fabrication completed next week.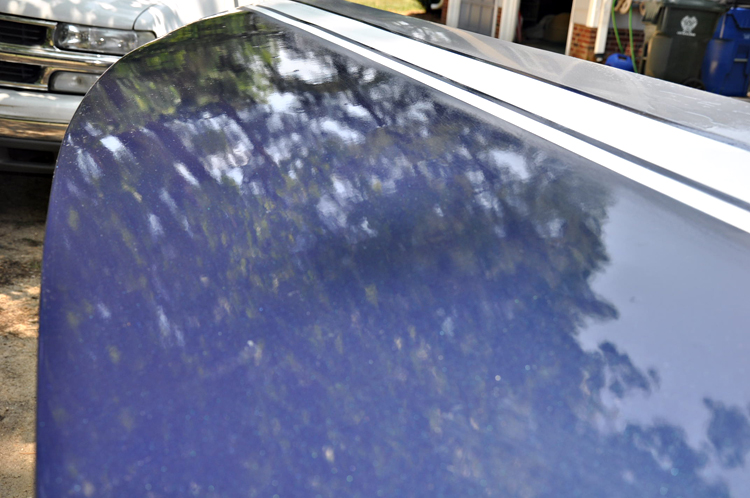 Sadly as the boat has sat in the heat, all the screws that were used to fasten the deck have bubbled up which is probably going to mean repainting. Really makes no sense as the screws were counter sunk, epoxy filler then sanded smooth, then 8 oz fiberglass on top of that and then epoxy primer, several coats, and now this. Well better now than after the lettering which will be sprayed by stensil in lieu of decals. I found some funky clear that has prisms in it that will kinda make them look like a chamelion, which they do not make in silver. Boat still needs some graphics, and lets get the lifting harness fitted.
What an adventure, one original frame is "sistered" in the bow on the right sponson.
The original steering box, foot throttle and all the rest new.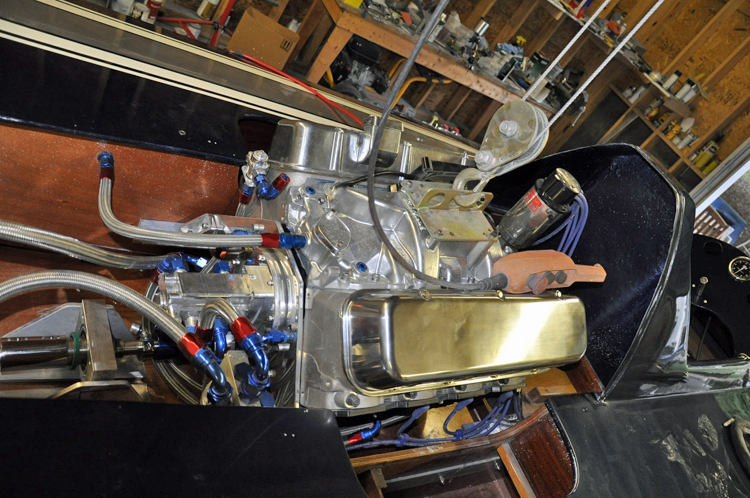 Engine is in, shaft alingnment near complete, drysump oil system primed, headers go on today, and soon the engine will be running.
Hopefully all machine work done soon.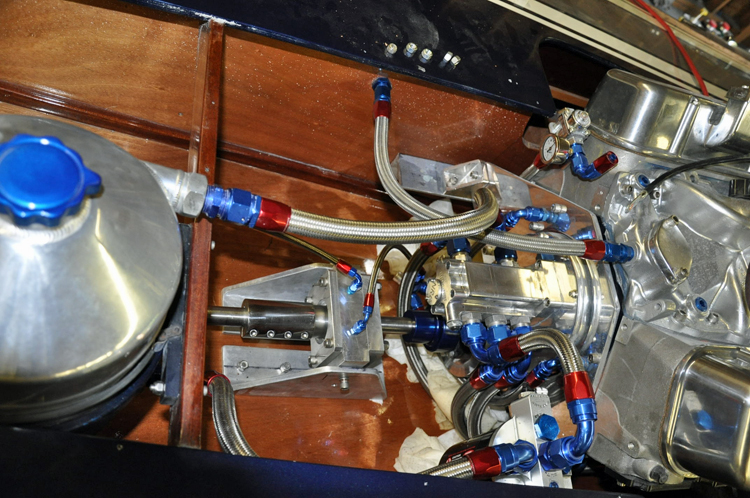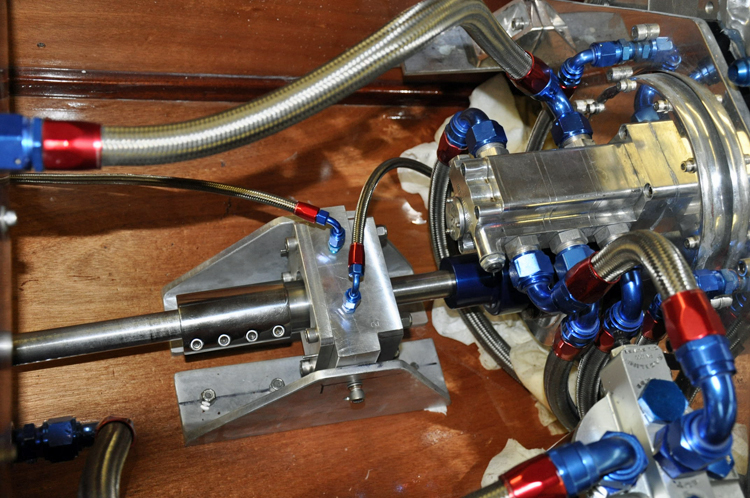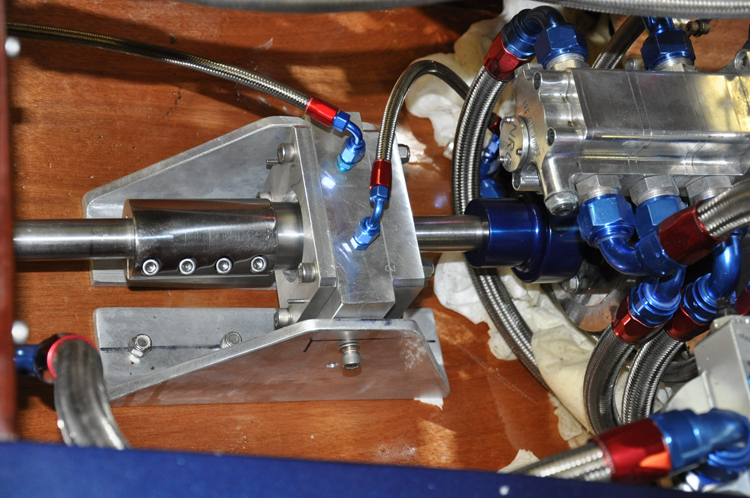 Finally got her oil system done, went to prime the engine, and found a little to late the plug at the oil filter missing....
Thus filled the bilge with fresh oil. However all is cleaned up, what a clean installation.
The angular thrust bearings are water cooled, as well run in 80 weight oil in liew of grease.
Kinda took some thoughts from Casale gear box's and should be about as good as you can do.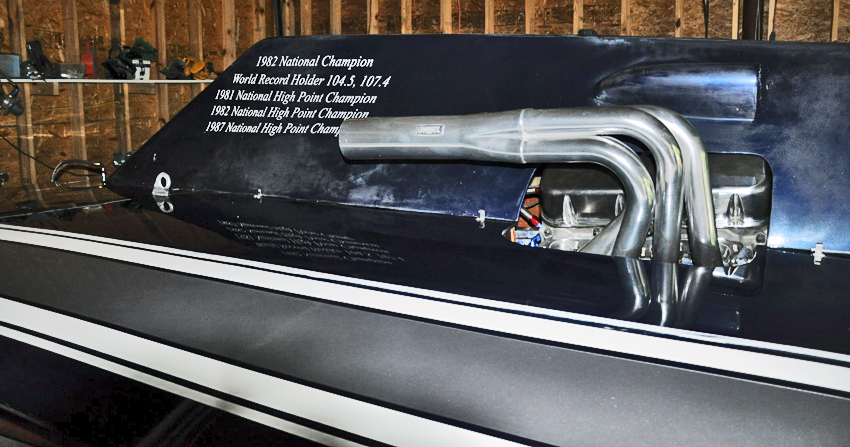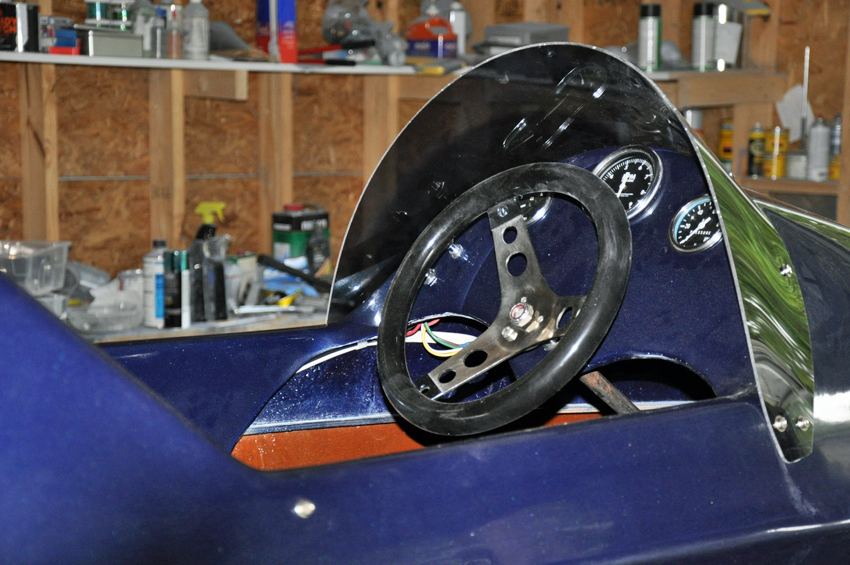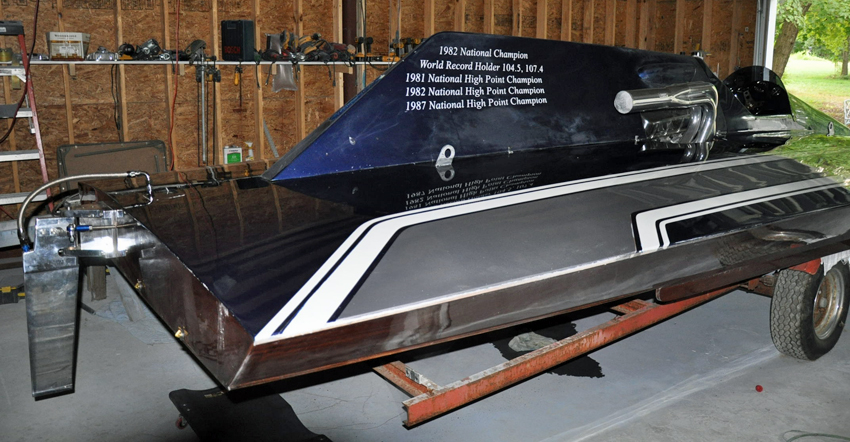 Someone said the other day, the last 10 percent takes as long as the first 90 percent. Engine is primed, timing ready to be set but something is surely to be the next suprise.Put new ceramic headers on today and for good. It's either going to be a bear or a pain in the ass.I have tried my best to keep it simple... Now to set the timing, and oil pressure... oh and of course everything I have forgotten. What a way to spend a small fortune of time and money. Now my first grade school teacher would have said to me emphatically what a waste of time.... But SHE IS BACK.
If you have any photos or additional historical information, please contact me.
© John Harvey

Back to the boats
---