Inboard Nationals Draw Huge Crowds to San Diego
One flip, three fires and a new world competition record for the 7 Litre class highlighted the 1963 Inboard National Championships held at San Diego's famous Mission May course on Sept. 20-22.
The largest crowd ever to witness a spectator event at Mission Bay packed bleachers and lined the shores to see 125 of the top speedboat racers in the United States and Canada compete in 10 classes for $3,500 in prize money plus trophies. The final heat on Sept. 22 was taped by ABC's TV cameramen for a special nationwide telecast on Wide World of Sports on Nov. 9.
Because it offers some of the finest sea-level, saltwater racing in the world, the Mission 1-2/3 -mile course has seen records broken each year since its opening in 1961. This year was no exception.
Clocking 90 mph flat in the next to the last championship heat of the final day, Arthur Asbury of Ox Tongue Lake, Ont., Canada, hung up a new world competition record with Aubert Brillant's 7 Litre Royal Canadiana, erasing the 86.956 mark set by Ray Gassner's Sunshine Baby IV from St. Petersburg, Fla., on the same Mission Bay course two years ago. By finishing third on Saturday, the Canadian boat, piloted by Brillant, took the title north of the border. The Royal Canadiana also recorded the fastest speed of any of the 10 participating classes.
Of the eight defending champions in the field, only three managed to retain their titles. George Cusick, Cambridge, Md., took both heats in the 145 hydro class with Robert Tuttle's Red Top from Northport, N.Y. Skeeter Johnson, also of Cambridge, retained the 266 hydro crown with Bill Ritner's Wa Wa Too from Gladwyne, Pa. Don Towle, Los Angeles, repeated to claim the SK Racing Runabout title in Haf Gast Too, in spite of a fourth in the final racing day.
Among the five who were toppled, the 225 hydro crown switched from Marion Beaver's Uncle Gummy to Gummy's
Ghost. Piloted by Wayne Thompson of Reseda, Calif., the boat from Parker, Ariz., raced to victory in the first heat, settling for a third in the second heat to win the title.
In the 280 class, two Canadian boats, Miss Valleyfield, driven by D. F. Brous of Ontario, which took first, and Le Canadianan by Aubert Brillarit of Rimouski, Quebec, fourth place winner, were disqualified. This moved Sam Too, driven by Rex Bixby of Costa Mesa, into first, with a top speed of 68.754 mph. .
Hot Cinders captured the Crackerbox title when Bob Patterson of Van Nuys, Calif., sat in for LeRoy Penhall of Anaheim who was injured in a flip in the first heat. Penhall failed to come out of the north turn on the initial lap with his SK Racing Runabout, Sizzler, and was hospitalized with cuts and bruises.
Wes Knudsen of Provo, Utah, picked up a second in the first heat and a first in the second heat to take E Racing Runabout honors with My Stardust. Last year's defending champion, Dennie, was disqualified.
Dr. Henry Eastman's record-holding 48 hydro, Piranha, driven by Mickey Remund of El Cajon, Calif., won both heats with ease, averaging 69.018 mph.
In the 150 class, Remund, driving Red Reeder's Helluva, missed by a scant three seconds from scoring a coveted double win over Randy Meyer's Avenger VI from North Hollywood. Both were tied on points and total elapsed time for two heats, but Meyer won top honors with a 4:01 fastest heat against Remund's 4:04.
Randy Meyer's Avenger VI also won the Mayor's Cup Challenge Race, highlighting the final event in the last day of the meet. The race was open only to the 12 hydroplanes registering the fastest time in Saturday's first heats.
Last year's defending champion in the ISO hydro class, Lars Stromstedt of McHenry, Ill., failed to finish in the first heat when Lutefisk's flywheel broke off on the back stretch, sheared a fuel line and set fire to the boat. Lars was not injured. In the second heat of the same class, Kelly Schroeder of San Diego in Trample lost the last 18 inches on the bottom of the boat on ! the fourth turn and sank. Schroeder, race chairman for the San Diego Inboard Racing Association, was unhurt. The accident necessitated a restart for the heat.
Hayden Harris of Los Angeles, driving Isotope in the 225 class, first heat, was tossed out of his boat on the first turn, which resulted in a restart of that heat. In the same class, John Ryan of Seattle was forced to abandon his Shillelagh during pre-race practice when fire struck.
Prime sponsor of the championship races was the San Diego Junior Chamber of Commerce, most of whose 350 members turned to for several weeks prior to the meet to assist Project Chairman John Ihrig in taking care of the many details to insure its success. Local Jaycees also have won wide recognition through their active sponsorship of the Yellowtail Fishing Derby and other special spectator sports events;
Responsible for conducting the races were the San Diego Inboard Racing Association and the Southern California Speedboat Club of Los Angeles. President C. D. Strang and Inboard Vice-President Kenneth Wade were among the APBA officials present for the event and trophy presentations. National champions received the APBA championship award which was an attractive sterling silver belt buckle.
The first afternoon of the three-day session was devoted to qualifying duels for inboard berths. The 145 class trimmed its original 21 entries down to 12, the maximum starters permitted, while the SK Racing Runabouts lopped four off 16 entries in elimination heats. Exempt from qualifying were defending champions and eastern and western divisional winners.

48 HYDRO
1, Piranha, Mickey Remund, EI Cajon, (1-1) 800;
2, Short Snort, Lynn Montgomery, Fed. Wy. Wa., (4-2) 469;
3, Sting Ray, Chuck Dale, San Diego, (6-3) 320;
4, Miss Land & Marine, Joe Siracusa, Morgon, City, (2-DISQ) 300;
5, Double Trouble, Darrel Olson, Long Beach, (5-4) 296;
6, III Eagle Too, Alex Kuroda, San Diego, (3-DNS) 225.
Tinkertoy Too, Wayne Thompson, Reseda, (DNS-DNF);
Sneaky III, Harvey J. Stuska, Denver, Col., (DISQ);
Carol's Bonneville, John R. Lyle, San Diego, (DNF-DISQ);
Splish Splash, Jim Mitchell, Laguna Beoch, (DNS-DNS).

CRACKERBOX
1, Hot Cinders, LeRoy Penhall, Anaheim, and Bob Patterson, Van Nuys, (1-2) 100;
2, Cracker Jack, Jack Hurley, Idaho Falls, (2-3) 525;
3, Big Deal, Don West, Pleasant Gr., Utah, (DNS-l) 400;
4, Hot Box, Les Jeboult, New West'r, B.C., (4-5) 296;
5, Tom's Cat, Kenny Lassen, Provo, Utah, (3-DNF) 225;
6, Hot Dam, Rocky Stone, Anaheim, (5-1) 19B;
7, Rebel, Gary Roberge, Provo, Utah, (DNF-4) 169;
8, Foxy, Gordon Jennings, San Diego, (6-DISQ) 95;
9, Moonshine, K. V. Johnson, Provo, Utah, (DISQ-6) 95.
Rinky Dink, Roger Stull, Fullerton, (DISQ-DISQ).

150 HYDRO
1, Avenger VI, Randy Meyer, N. Hollywood, (2-1) 100;
2, Helluva, Mickey Remund, EI Cajon, (1-2) 100;
3, Flamingo, Chuck Thompson, San Diego, (3-3) 450;
4, Marty, Willie Kendig, Visalia, (5-5) 254;
5, Snoopy, Ed Lane, Portola Valley, (6-6) 190;
6, Trample, Kelly Schroeder, San Diego, (4-DNF) 169;
7, Frustration, E. Hale Adams, Los An- geles, (DNF-4) 169.
Lutefish, Lars Stromstedt, McHenry, III. (DNF);
High Hopes, Jack Hess, Seattle, Wash. (DISQ).


145 HYDRO
1, Red Top, George Cusick, Cambridge, Md., (1-1) 800;
2, Lanky, Allan Ford, Concord, (2-2) 600;
3, Lil Squirt II, R. Bruce McDonold, Seattle, (3-3) 450;
4, Jerky, R. Gary Jones, Healdsburg; (4-4) 338;
5, Ezzy Duzzitt, Herb Hintzke, Long Beach, (5-6) 222;
6, Drane, Jim Vallely, Los Angeles, (6-7) 166;
7, Sidewinder, George Henley, Eatonville, (DNS-5) 127;
8, Climax, Rick Murdack, Spring Volley, (7-11) 93;
9, Scrappy, Harry Weimer, Sacramento, (10-8) 83;
10, Obsession, Kenny Dumbauld, San Diego, (9-9) 80;
11, Fly'n Bucket, Poul Bequette, San Diego, (8-DNF) 53;
12, Mizty, Bill Phelps, Long Beach, (DNS-10) 30.

E RAC. RUN.
1, MY Stardust, Wes Knudsen, Provo, Utah, (2-1) 700;
2, Daddy's Boby, Jae Poty, Whittier, (3-3) 450;
3, Ice Cube, Gorlond Privitt, Inglewood, (I-DNF) 400;
4, Bouncy Barby V, Ed 8rown, Nice (7-2) 371;
5, El Toro, Peter Mistretta, Chi- caga, (4-4) 338;
6, Gypsy, Jack Leftwich, Provo, Utah, (6-6) 190;
7, Donald Duck, Eddie Modison, Montcloir, (8-5) 180;
8, Supercortemoggorie, Lance Collins, Los Alamitos, (5-DNF) 127;
9, Pandemanium, Ray Lewis, Lakewoad, (9-7) 111.
Dennie, David Davis, Prava, Utah, (DISQ);
Rannchy, Cecil Flarence, Parker, (DNS).

280 HYDRO
1, Sam Too, Rex Bixby, Casta Mesa, (2-2) 600;
2, Giz-Mo, Eddie Silva, Hayward, (4-3) 394;
3, Oops, Chuck Thompson, San Diego, (5-6) 222;
4, Water Scamp, Ben Lange, Seattle, Wash., (6-5) 222;
5, Hank's Prank III, Henry Evans, Voorheesville, (8-4) 222;
6, Slim Princess, Ken Abrahams, Bell, (7-8) 124;
7, Danny Boone, Bud Singer, Parker, Ariz., (9-7) 111;
8, El Roacho, Glenn Campbell, San Diego, (10-9) 70;
9, Hypertension, Jim Kierce, Tujunga, (11-DNS) 22.
Honeybear, Al Ford, Concord, (DNF);
Miss Valleyfield, D. F. Brouse, Ont., Can, (DISQ);
Le Canadian, A. Brillant, Rimouski, Can., (DISQ).

225 HYDRO
1, Gummy's Ghost, Wyne Thompson, Reseda (1-3) 625;
2, Thunderbird, Max Stierle, Bellflower (5-1) 527;
3,Charity Merle Salland, Vancouver, (2-4) 469;
4, Uncle Gummy, Bob Eltis, Hollydole, (3-5) 352;
5, Tiger Too, Barry Schneider, Polo Alto, (DNF-2) 300;
6, Starduster, Fred Wright, Seattle, (4-6) 264;
7, California Kid, Robert Schwartz, Oakland, (6- DISQ) 95;
8, Isotope, Hayden Harris, Las Angeles, (DISQ-7) 71.
Sleepy Sam, Bill Phelps, Long Beach, (DNF).

266 HYDRO
1, Wa Wa Too, Skeeter Johnsan, Cambridge, (2-2), 600;
2, Apache, Michael Thomas, Harvey, (DISQ-1) 400;
3, ZB II, Bob Ingram, Visalia, (l-DNS) 400;
4, Skitter, Dan Ward, Tarrance, (3-5) 352;
5, Miss Parco, Jerry Ballard, Manhat- tan, (5-4) 296;
6, Katy-Did, Chuck King, Hermosa 8each, (DNS-3) 225;
7, Aqua-Holic, Mike Waters, Manhattan Beach, (4-DISQ) 169;
8, Miss Sterling, John Koch, San Diego, (6- DNS) 95;
9, Miss Canadiana, Arthur Asbury, Ontario, (7-DNF) 71;
10, Koch Roach, Robert Frazee, San Diega, (8-DNS) 53.

7 LITRE
1, Royal Canadiana, Aubert Brillant, Rimouski, Can., and Art Asbury, Oxtangue Lake Can., (3-1) 625;
2, The Redskin, Kenny Lydon, Seattle, (1-3) 625;
3, Eightball, Jim Townsend, Port Arthur, (DNF-2) 300;
4, Sunshine Baby IV, Ray Gassner, St. Petersburg, (2-DNF) 300.
Miss Vitamilk, Wm. J. Braw, Seattle (DNS);
San Diego Baby, Chuck Thamson, Paway, (DNF);
Challenger, Billy Schumacher, Seattle, (DISQ-DNF).

SK RAC. RUN.
1, Haf Gast Too, Dan Towles, Los Angeles, (1-4) 569;
2, Suddenly, Tany Maricich, San Pedro, (3-2) 525;
3, None, Jack Williams, Shafter, (6-1) 495;
4, Fjord, Butch Peterson, Lake Arrow, (2-5) 427;
5, Creme Puff VIII, Ed Olsen, Garden Grove, (DISQ-3) 225;
6, Golden Canadiana, A. Brillant, Rimouski, Canada, (5-7) 198;
7, Golden Commode, Jay Gatfredsan, San Marina, (4-DNS) 169;
8, Fools' Gold, Steve Elias, Seattle, (7-6) 166.
Sizzler, LeRay Penhall, Anaheim, (DNF- DNF);
Long Gone, Les Brown, Oak Lawn, III., (DNF);
Flyin' Home, Clem McCullah, Torrance, (DNS).

MAYOR'S CHALLENGE CUP
Avenger VI, Randy Meyer, No. Hallywood, Calif.


145 Falcon Kit Vote Results
By Kenneth Wade
Vice-President, Inboard Racing
The results of balloting on the legality of the Falcon High Performance Kit for use in the 145 hydro class showed that 38 owners voted in favor of its use and 53 voted against its use.
The Inboard Racing Commission voted four in favor of its use and 13 voted against its use. Therefore, the use of the High Performance Kit in the Falcon is thereby ruled out for the rest of the 1963 season.
A very excellent return of ballots was experienced, with 91 ballots returned out of 128 registered 145 owners. Many owners added comments to their ballots which fell into several groups; one group felt definitely that the rule plainly allowed the
kit.
In direct opposition to this, another group of about the same size insisted that all owners using the kit should be suspended for doing so. Another group made the point that the 145 was a stock class and those who wished to modify could do so by running in the 150 class. Quite a few owners felt that any changes should be permitted only at the beginning of the year, and indicated that the kit should be legalized by an owner vote before the 1964 season.
To quote from the ruling by APBA's Chief Counsel, "The facts in this case clearly warrant the conclusion that the action of the Inboard Racing Commission in interpreting the Rule performed an act entirely within the powers of that Commission. The Ruling made is final and binding upon the Class. Any further change must be made by a Rule change by ballot or emergency ballot in accordance with the procedure set forth in the Rules."
All in all, my own personal reaction to the many, many notes is that the owners in this class are vitally interested in their class and are willing to do what they think best for its furtherance. With this kind of loyalty it is easy to see why the 145 class has been, and will continue to be, I am sure, one of the strongest classes in Inboard racing.


Number of Turn Buoys Required on Sanctions
Race sponsors and others completing information on sanction applications are requested to state the number of turn buoys on the course to be used, before submitting the application for approval. While a minimum of three turning buoys is required at each turn under General Racing Rule 2, section 7, where water conditions permit, the number is generally not specified on the sanction or race circular. Other information about the course is stated, such as length, number of laps and whether or not it is approved for records. The inclusion of the number of turn buoys not only will comply with the rules, but will be helpful to drivers in determining whether or not they will attend a given regatta.
President C. D. Strang recommends 1 that this information be shown on the 1 sanction application under "Course" and I requests region chairmen to check it when sanctions are submitted for approval. If the number of turn buoys is not stated, sponsors should be requested to supply it. When included on the sanction, National Headquarters will also include the number on the race circular for information of drivers.




A tight battle of E Racing Runabout shows David Davis, Provo, Utah, in Dennie fighting for the lead. Wes Knudsen, also of Provo, took the 1963 National Championship title in his Stardust 21-E.
In Far Off Gedoba land
By Debbie Dale
During the prize award dinner at the recent Inboard National Championships in San Diego, Master of Ceremonies Slim Boettger read a story composed by a blonde gal named Debbie Dale, "poet laureatess" of the San Diego Inboard Racing Association. The words in bold throughout the story are actual names of race boats at the Nationals. It created such a wild reception at the dinner that we are publishing the clever fantasy below.-EDITOR)
Once upon a time, in far off Gedoba land, there lived an Apache slim princess who was, unfortunately, an aquaholic. She was a real rebel who wanted to do nothing but eat lutefisk and drink moonshine with Wild Willy, a bad hustler. Now the king, Sleepy Sam, and his brother, Uncle Gummy, were haf gast too until they saw Gummy's ghost and decided to switch to Vitamilk in a real quickway.
The queen, a royal Canadiana, plagued by hypertension, created pandemonium by saying "Aw comon, Jr., let's leave this misty land and find sunshine baby in the southern aire." "How raunchy," said the uncle. "Yeah, big deal," bellowed Sam too as he put an ice cube and a lil' squirt in his glass.
Now the queen realized a move like this to California with the kids would kostafortn and be a real budget buster, but she was an aggressor and wanted to go to San Diego to see the el toros and watch the ill eagle greyhounds run. It became an obsession with her and she droned on and on about it.
Daddy's baby, bouncy Barby by name, was also a gypsy at heart and said, in her baby talk, "Little deal, I want some wa wa too." By now the king was long gone so he yelled at Barby to go play with her tinkertoy and she skittered away as he lit an El Roacho.
"This is a helluva note," said the king as he blew his red top. "The West is a dangerous place. In the desert where the Duquesne Indians yell "Okelehao" and eat rawhide, we'd probably be bitten by a sidewinder and maybe even miss land and end in the marine stadium with a big splish splash. Or even be stung by a sting ray or eaten by a piranha fish or step on a hot cinder on the beach."
But hot mama wouldn't let her high hopes be trampled and said, "Ezzy duzzitt, we have Danny Boone to guide us and katydids to chirp to us under the stardust." "Hot Dam," said Dennie, the lanky cream puff prince, "Dad's met his match. My mom's real scrappy and a little sneaky too." The argument was a sizzler, with the queen the challenger and the king swearing he would be the avenger.
"Just. think," said the queen, "we could go to the zoo in the Bonneville and see the flamingo, the honeybear and a tiger too, then have a picnic of flied lice in the parco."
The fight reached its climax and the jerky king knew he was behind the eight ball when he was hit. by a fly'n bucket, so he gave up and told the queen to get her gizmo into their Thunderbird. But the rinkydink car wouldn't start in a jiffy so they left by train, with Supercortemaggiore locomotion, rather than flyn home.
Hi-Di-Ho and away we go ...OOPS!

Marine Stadium Planned For Portland, Ore.
As a result of a successful Portland Cup regatta, the South Riverside Kiwanis Club and Cascade Inboard Racing Association of Portland, Ore., are making headway on a modern hydroplane racing stadium large enough to include the unlimiteds.
The area under consideration will include a swampy area north of Portland, including Smith and Ramsey Lakes. The city now holds most of the property and is willing to have it developed along with the Delta Park project, a sports complex which is to include an athletic stadium and auto racing facilities.
Designs for the marine stadium are being prepared by Kenneth Ashman, assistant timer for most of the unlimited events on the west coast and past commodore of CIRA, and Bob Thompson, a Portland architect and member of the South Riverside Kiwanis group.
According to Walt Winter, president of the Kiwanis Club, if the voters will approve the sports complex, unlimited racing will be a reality in Portland by 1966. And the inboards, outboards and drag boats will have an ideal place to hold their regattas.
Old Miss Pepsi in Museum
By Joe Dowdall
The Detroit Free Press
Miss Pepsi, the sleek twin-engine Gold Cup boat which dominated powerboat racing in the early 50s, was enshrined in the Dossin Great Lakes Museum on Belle Isle, Detroit, Sept. 19.
The cigar-shaped multi-step racer was the last successful displacement hull before the Gold Cup field was revolutionized by the late Stanley Sayres' three-point Slo-Mo-Shuns.
Chuck Thompson of Detroit, won every major boat race with Miss Pepsi with the exception of the Gold Cup. The boat held more than a dozen competitive records when it was retired in 1952 by her owners, the late Walter and Roy Dossin.
The Dossins donated the Great Lakes Museum in 1956 and later donated an additional pavilion to house the 30-foot racer. Seattle has a similar shrine for Slo-Mo-Shun IV and the people of Guntersville, Ala., built a museum to house Detroiter George Simon's Miss U.S.. I after it set the world's water speed record on Lake Guntersville.
Two men stood out in the crowd as Miss Pepsi was enshrined in a $25,000 glass case.
The one was Les Staudacher, who created the twin-engine beauty with the late John Hacker. The enshrinement ceremonies marked Staudacher's first public appearance since he was seriously injured in the spectacular crash of the jet-powered Miss Stars and Stripes last spring.
The other standout was Thompson. The two men were reminiscing about the days when Miss Pepsi led the fight to keep Detroit the Boat Racing Capital of the World.
"Although the record books don't show it, Miss Pepsi was the only boat to win every race she entered for nearly three years," Thompson recalled.
"Everyone always talks about how we (Chuck and Miss Pepsi) won every race but the Gold Cup. But they forget that we won the Gold Cup in 1956-at least we won it for two months until the American Power Boat Association ruled that Miss Thriftway did not strike a buoy and gave the victory to Bill Muncey."
The long three-step conventional hydroplane stood alone in the Gold Cup fleet. The rest of the boats were the high-flying three-pointers which make up the entire fleet today.
The success of Seattle's Slo-Mo-Shun's and Miss Thriftway swung the owners to the three-pointer's camp and every Gold Cup boat built since has been a three-pointer.

Outstanding Record
Here is a story about the Meyer family. .. About twenty years ago Eddy Meyer and his son, Bud, started racing 135 hydros and named them Avenger. Bud and his father enjoyed many thrills, spills and honors together.
Last year the third generation of drivers came into the limelight when Bud's son, Randy, won most of the races on the Pacific coast driving Avenger VI with a new 150 Chevy II engine built by his father.
This year they will go down in history. I believe this is the first time that a racing team has ever accomplished the feat of winning all the records possible. On May 4 they set a new straightaway world's record at Parker, Ariz., at 109.872. They made the 100 mph club. However, Randy had the misfortune to disintegrate his boat on one of the return runs, putting him in the hospital. He was also in the hospital for several weeks following an accident at the Marine Stadium on Memorial Day. He won the Western Divisionals at Bakersfield and set another APBA competition record of 78.192.
At present they also hold the 150 national high point lead. At the Inboard Nationals Randy won the 150 championship. Then he accomplished what we would consider the impossible. In the Grand Prix free-for-all for inboard hydros, he walked away with first place.
We take our hats off and salute Bud Meyer and his 150 Chevy engine and Randy Meyer for his outstanding courage and skill.
Ken Furniss Ogden, Utah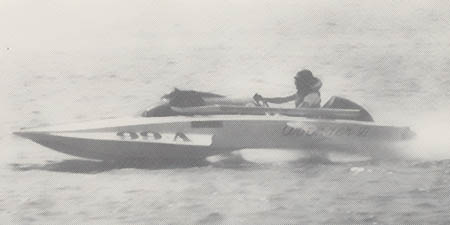 Randy Meyer of North Hollywood, CA hits the first turn in the 150 cu. in. hydro Avenger to take the National Championship title at San Diego, CA.
IN MEMORIAM
The death of Harry LeDuc, well-known sports writer of Detroit, is reported elsewhere in this issue. His sudden passing was a shock to sports in general and power boat racing in particular. APBA lost a real friend, enthusiastic supporter and promoter of boat racing, not only in the Detroit area but nationally. His warm smile and friendly interest in the novice as well as the experienced driver will be sorely missed at boat races.
George H. Bates, 28, of Lake Forest, Ill., a member of the Chain O'Lakes Boat Club and APBA Region 7 inspector, was killed in Lake Zurich, Ill., on Sept. 4, when his auto collided with a bus while on his way to work. He was well known in racing circles in his own region as well as in Region 11. George leaves his wife, Karen, and four young children.
Stanley W. Ferguson, 76, prominent in APBA and Region 1 affairs during the '30s and '40s, died Sept. 17 at the Barnstable County Hospital, Mass., after a short illness. He was a resident of the Wings Neck section of Pocasset, Mass.
Mr. Ferguson was a member of APBA's Council from 1935 to 1947. He also served as Treasurer from 1939 to 1944 and was a director of Region 1 for over twelve years. He was in the coffee and tea importing business in Boston and was noted for game breeding, particularly peacocks and pheasants. Mr. Ferguson leaves two sons and a daughter.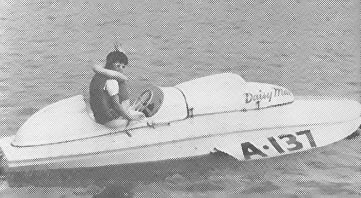 Miss Sharon Mims of Miami, FL is not only the most photogenic driver at recent races in the mid-west, but she also gives the boys keen competition. Sharon captured the 150 hydro event at the Governors Cup Regatta at McHenry, IL.
Miami Marine Stadium Designed for Safety
APBA Chief Surveyor Robert Schelling praised the new Miami, Fla., Marine Stadium for its safety factors following examination of the preliminary layout.
Schelling said the 1-2/3-mile and 2-1/2 mile courses are outstanding examples of good design, from the standpoint of safety and other features for power boat racing. He called attention to such safety factors as the 350 ft. wide lanes on the straightaways, and the 600 ft. clearance on the turns. In addition, the straight-aways are 700 ft. apart, with 11 buoy turns.
In addition to the two regular closed courses, there is a marathon track just under 4-1/2 miles in circumference.
The grandstand will seat 7,000 with parking space for 4,200 cars. Pit area is ample and will be fenced in and completely divorced from the public areas.
"This man-made project will serve as an example for others to follow," Schelling stated. "I receive too many charts with inadequate clearance on the straight-aways, turns of only 75 ft. radius and similar questionable safety factors."
The new stadium will be used for the first time for the APBA sanctioned Orange Bowl Regatta, Dec. 28-30 and Jan. 4.
Kankakee Draws 35,000
Carl Ward of Lima, Ohio, was the standout pilot of the Great Lakes Inboard Racing Boat Championships, attended by record crowds at the Kankakee, Ill., River over Labor Day weekend.
Crowds estimated as high as 35,000 for the big three-day show lined the banks of the river in the most successful weekend in eight years of Kankakee Valley Boat Club-sponsored races. This year's event was co-sponsored by the Chain 0' Lakes Boat Club.
Red Unger, member of the local race committee, said Sunday's crowd was probably the largest single day turnout in the eight-year history of the races. Local chairman was Syrene (Doc) Brummet, Saturday, during runs for the record Les Brown, apparently bettered a world record in his Ski-boat but the time was not officially recorded. He asked timers not to record his first. lap. He later said that according to a special gauge in his craft he topped 100 mph on that lap but then his engine conked out and he was unable to run under the clock.
Ward, driving his own 280 hydro, Mr. Trophy, recorded the best average time of the races, 68.940, for two heats to win the 280 hydro event. He also finished third in Willard Leatherman's boat, Tip-Top Penny, in the 145 hydro race, thus being the only driver to finish in the money twice.
Dave Thomas, Dayton, Ohio, turned in the best single heat. time of the weekend in Sam Urso's 280 hydro Sayonara at 69.659 mph.
145 Hydro -1. Charles Fyffe, Dayton, Ohio, 2. Jim Davis, Kettering, Ohio, 3. Carl Ward, Lima, Ohio.
150 Hydro -1. Frank Kowsow, Ottawa, 2. Dick Daus, Northbrook, 3. Dick Boyer, Germantown, Ohio.
280 Hydro -1. Carl Ward, Lima, Ohio, 2. Lenny Ryden, Shiller Park, 3. Leonard L. Grennon, Wyandotte, Mich.
E Rac. Run. -1. Charles Gerage, Chicago, 2. George Kelly, Chicago, 3. Torby Barker, Niagara Falls, N. Y.
SK Run. -1. Lou Portalski, Antioch, 2. Rudolph Trebels, Glenview, 3. Dean Guerine, Melrose Park.
Outboard Pleasure Craft -1. Bill Karouzas, Chicago, 2. Jim Umbarger, McHenry, 3. Ralph Kozan, Chicago.
Local Inboard Family Runabout (Kankakee Valley Boat Club members) -1. Walter Thiessen, 2. Tom Beland, 3. Dennis Bowsher, 4. Kenny Unger.

False River Regatta
By Jack Coniff
Harry Bilbe's Tin Horn, plagued with hard luck, came through to win the Jax free-for-all trophy, due to the tenacity of mechanic Bob McGuire and driver Clayton Boudreaux at the 13th ,Annual False River power boat regatta in, Baton Rouge, La., Aug. 25.
Earlier in the day, Tin Horn was unable to answer the starting gun for the first heat of the 266 hydros, but came out to win the second heat by defeating first heat victor Tony Piazza in Hustler of New Iberia by three quarters of a straight away.
As the five-minute gun sounded for the start of the free-for-all, Tin Horn was unable to get started. Again McGuire was draped over the sponson with the cowling up in a frantic effort to start Bilbe's boat. As time was running out, he finally got the big engine to crank over. McGuire slid off and swam to a patrol boat, while Boudreaux was able to start the race.
At the start of the five-mile event, the 280 hydros Double Trouble and Noodles took the lead, with Piazza third and Boudreaux fourth, a half mile behind. Coming out of the first turn, Hustler and Tin Horn were battling it out for first place. All the way down the back stretch, the two hauling 266's battled it out nose to tail. As they passed the judge's stand, starting the second lap, Boudreaux punched Tin Horn past Hustler and maintained a comfortable lead for the rest of the race.
Jerry Milto in Al Flair's Triss Ann gave Jerry Silva in Bill Grusich's El Capitan a big scare. Milto won the first heat of the E-service runabouts. In the second, Silva led for the first lap then Milto passed El Capitan but ran into engine trouble and had to settle for second in the second heat.
Ennie Argence's Gotta Go V with Frank Tullos at the wheel took a first and a second to win the 44 runabout Morning Treat Coffee perpetual trophy. Billy Ovelley's Pinky won the second heat.
Jo Siracusa drove Jim Retif's Miss Nehi III to come from behind wins in both heats of the 150 hydros. Miss Nehi trailed Herd Badinger's Miss O. K. II for two laps in the first heat and for one in the second as Tony Sanzone was having trouble keeping his speed up.
Baton Rouge boats dominated the 280 class. Sanzone drove Bob Phillips' Red Head to victory in the first heat. Louie Siracusa in the Noodles was second and Joe driving Bill Beaty's Double Trouble was third. In the second heat it was just the opposite, Double Trouble, Noodles and Red Head. Phillips' rig was ruled the winner on time.
Morgan City's Leroy Theriot defeated a field of eight 48 hydros in both heats. Theriot in Louie Siracusa's Flip, Flop & Fly was the only winner to repeat from last year's regatta..

E Ser. Run. -
El Capitan, Jerry Silva, New Orleans;
Trisse Ann, Jerry Milta, New Orleans;
Fresh Air II, G. W. Herringtan, Zachary, La.;
Hard Times, Jim Bowles, Metairie, La.
44 Run. -
Gotta Go V, Frank Tullos, Metairie;
Miss Take, Joe Hartigan, New Orleans;
Pinky, Billy Ovelby, Metairie;
Jr's Rebel, Bob Smith, Belle Chasse, dnf.
48 Hydro -
Flip, Flop & Fly, Leroy Theriot, Morgan City;
Sooner, Clyde Wade, Port Arthur, Tex.;
Cherokee, Tom Bowles, Metairie;
MBM Special, Frank Marshall, Bogaluso, La.;
Double R, Rolph Johnson, Houston, Tex.;
Miss Land & Marine, Joe Saricusa, Morgan City.
150 Hydro -
Miss Nehi III, Joe Saricusa, New Orleans;
Miss O.K. II, Tony Sanzone, New Orleans;
Belle, Johnny Landaiche, New Orleans.
266 Hydro -
Hustler, Tony Piazza, New Iberia;
Pop's Rebel, Pops Wichers, Belle Chasse;
Tin Horn, Clayton Boud- reaux, New Orleans;
El Toro, Jim McDonough, New Orleans.
280 Hydro -
Red Head, Sanzone, Baton Rouge;
Double Trouble, Jae Saricusa, Baton Rouge;
Noodles, Louie Saricusa, Morgan City;
Rambler, Dick Colgin, Morgan City;
Debutant, Nathan La Borde, Metairie.
Free-For-All -
Tin Horn,
Hustler,
Double Trouble,
Noodles.
Harry LeDuc Dies Suddenly
By George E. Van
The Detroit News
Harry LeDuc, who became a legend in his time and a towering figure in his influence on sports, sports writers and the community during his 50 years with The Detroit News, died Sept. 23 at 68.
He suffered a heart attack at Metro- politan Airport on his return from Kawkawlin, Mich. He was pronounced dead on arrival at Wayne County General Hospital. Mr. LeDuc had a previous record of heart trouble.
At Kawkawlin, he had discussed plans for a new jet boat with Les Staudacher, still convalescing from 'a near fatal racing boat crash on Hubbard Lake last spring, and with Bob Evans, of Grosse Pointe, sponsor. Staudacher had been driving the jet boat Stars and Stripes, owned by Evans.
Mr. LeDuc retired from the staff of The News Jan. 1, 1961, but continued to busy himself with the people who surrounded the events he liked.
He still covered the 500-mile auto race at Indianapolis and for four or five months each winter was an official and adviser to auto race promoter Bill France at Daytona Beach, Fla.
He covered the Silver and Gold Cup boat races in Detroit and at Seattle or wherever the unlimited juggernauts were racing.
He brought Shirley Mendelson MacDonald into unlimited racing with the boat Notre Dame, and introduced her and the boat's driver, Col. Warner Gardner to the world.
Mr. LeDuc also had acted as adviser to her father, the late Herb Mendelson, when he owned a previous Notre Dame, the Gold Cup winner in 1937.
He was the respected dean of all those who covered the world of speed on land and water.
Mr. LeDuc followed the late W. D. (Eddie) Edenburn as the sports writer covering the "500" at Indianapolis for The News.
Mr. LeDuc had been close to Edenburn, the man who staged all of the early Gold Cup and Harmsworth Trophy events on the river here.
His story of speedboat racing on the river virtually covered the era of this sport, starting in 1920. LeDuc stories of Gar Wood would fill books. His biography of Wood and his Miss America's ran as a serial in The News.
It was Mr. LeDuc who called the speedboat king "The Gray Fox of Algonac."
He conceived the idea of the Gar Wood judges' stand for boating events on the Detroit River. Wood liked the suggestion and paid the $50,000 cost.
When Wood, with Miss America X, pulled Kaye Don, the English challenger with Miss England, over the starting line ahead of the gun in the Harmsworth race here in the famous "Yankee Trick" maneuver in 1931, Mr. LeDuc, wrote the story objectively and honestly. There was no other way for him.
He told how Wood was infuriated because the challenger wouldn't allow a short postponement. He also said the maneuver was legitimate. ..a regular device in yachting.
Mr. LeDuc was a strong family man. His wife, Alyce, was always with him and this included many of his sports assignments. The other survivors are three daughters and a son.


Miss Exide Wins President's Cup Regatta
By Doug Lambome
The Washington Post
The only sunshine on Hains Points Sept. 16 beamed from the camp of the unlimited hydroplane Miss Exide.
A persistent rain cancelled further heats of the unlimiteds racing for the President's Cup in Washington, D. C., and Miss Exide won the trophy on the basis of elimination heats run the previous day.
Both Miss Exide and Gale V won heats Saturday, Sept. 15, but Exide, with an average speed of 108.695 mph, had a better time than Gale and therefore took the honors.
Gale, owned by the Gale Enterprises of Detroit and driven by former Indianapolis "500" driver Bill Cantrell, won her heat with
a 104.610 speed.
Exide, winner of the Madison, Ind., regatta two weeks ago, is stationed in Seattle, owned by brothers Milo and Glen Stoen and driven by Bill Brow, milkman in Burien, Wash.
With Saturday's races still the basis, trailing Exide and Gale were: Notre Dame of Detroit. 97.772; Miss Michigan, also of Detroit, fourth at 88.437; Tempo from St. Petersburg, Fla., 79.751; and sixth, Miss Madison from Madison, Ind., at 77.253.
What was billed as a duel between four red-hot boats turned out to be a fiasco with top contenders Tahoe Miss and Miss Bardahl eliminated from contention Saturday.
Miss Bardahl of Seattle lost her second place finish to Exide when she was disqualified. Officials ruled that driver Don Wilson from Palm Beach, Fla., had made an illegal approach to the start.
Another hot number, Tahoe Miss from State Line, Nev., driven by four-time Preddent's Cup winner Chuck Thompson of Detroit, led Miss Exide into the first turn of their race, but stalled midway through the comer with a blown gear box.
Gale V won her heat with ease, leading from the start to checkered flag. the full 15-mile distance over the three-mile course.
Tempo, based in St. Petersburg, Fla., and driven by Bob Schroeder, made a strong showing although being watered down after the start. Moving from fourth place to second in two laps, Schroeder's supercharger gave way and Tempo sputtered over the line, in third place behind Notre Dame of Detroit. Miss Madison from Madison, Ind., was a sick fourth.
Bill Brow started heat 1B bow-to-bow with Tahoe Miss. Both boats sailed airborne into the turn, with Tahoe barely in the lead. Exide took over when Tahoe stuttered to a halt and managed to keep a six-second lead over the closely pursuing Miss Bardahl.
Brow pushed the Bardahl to 110.883 mph for the fastest lap of the day. Exide's heat speed was 108.695.
The last time rain played havoc with the President's Cup as in 1958. But the races were held over to Monday and Miss U. S. 1 came up the winner. Rules now forbid extension of race days.
The drizzle that moved over the course just minutes before race time failed to stop the drivers of the small limited inboards.
The Scandal driven by Harold Satterfield, bounced and bobbed to two heat victories and won the national championship of the F Service Runabouts in the process.
True Ann, driven by Gerry Milto from New Orleans, and Second Mortgage, with Buddy Pumo of Miami driving, took a first and third apiece but True Ann won the E Service Runabout national championship with 12 seconds better time.
Jack McMahn took the lead early in the first heat of the 150 hydroplanes but his cowling flew open near the end of the first of three laps and he ended up third in the race and second over-all.
Frank Vernon of Washington failed to finish in the 150's but came back in the 266's, starting far behind in the pack and battling his way into first place. Vernon found himself far astern in the second heat but clawed his way into second before his engine conked out with spurts of flame at the end of the first go-round.
Charles Strickland of Haven Beach, N. J., ended up in first place; Vernon in fourth because he failed to finish the second heat. The running of the final heat for the 280 hydroplanes on Saturday had the air of a three-ring circus. The first attempt to start the heat was halted by red flares and the referee's indication that the start was illegal.
The boats tried it again but this time the flares brought attention to Dick Newell of Hamilton Square, N. J., whose hydro was gradually sinking. Newell kept his boat under way and just barely made the pits.
The boats were started again but one 280, owned by Johnny Masters of Haverford, Pa., caught fire. It was believed that the gas tank came loose and struck the flywheel. Despite a wall of flames and billowing black smoke, Masters suffered only minor burns on his legs.
When the smoke cleared, the winner turned out to be Just-A-Guest, driven by Jim Filbey of estville, N. J.
PRESIDENT'S CUP RACE
HEAT 1A
Boat ond Driver Aver. Speed (MPH) Points
Gale V, Bill Cantrell 104.610 400
Notre Dame, W. F. Gardner 97.772 300
Tempo, Bab Schraeder 79.751 : 225
Miss Madison, Buddy Byers 77.253 169
St. Regis, James Fyle DNS
HEAT 1B
Miss Exide, Bill Brow 108.695 400
Miss Michigan, Doc Terry 88.437 300
Blue Chip Walter Kade DNF
Tahoe Miss, Chuck Thompson DNF
Miss Bardhal, Dan Wilsan DISQ.
FINAL STANDINGS
Total Points Miss Exide (an elapsed time) 400
Gale V 400
Notre Dame (an elopsed time) 300
Miss Michigan 300
Tempo 225
Miss Madison 169

44 HYDROS
(First Heat) -
1, Da-Ro-Be, Montgomery, Po., Bab Overdorf, 45.000;
2, Adastra, Camp Hill, Pa., Luther Shoop Jr., 44.666;
3, Vodyanna II, Manchester, Po., Lewis Dorr, 43.290.
(Second Heat) -
1, Tach One, Mount Waif, Pa., Victar Rupp, 46.608;
2, Da-Ro-Be, 46.225;
3, Vodyanna II, 43.987.
Final Standings-
1, Do-Ra-Be, 700;
2, Adastra, 469;
3, Vodyanna II, 450.
145 HYDROS
(First Elimination) -
1, Red Top, Cambridge, Md., George Cusick, 61.141;
2, Sandy K, Chester, Md., Lem Thompson, 55.283;
3, Bonanza, III., Horve de Grace, Steve Sharp, 55.012.
(Second Elimination)-
1; Renegade, Baltimore, Billy Bunn, 61.224;
2, Lil Lectron, Wilmington, Del., Willard Wilson, 60.443;
3, Hustler, Brigantine, N. J., Bob Gale, 57.216.
(Final Heat) -
1, Red Top, 64.148;
2, Renegade, 61.141;
3, Lil Lectron, 59.172.
(Final Standings)-
1, Red Top, 800; 2, Renegade, 700;
3, Lil Lectron, 525.
280 HYDROS
(First Elimination) -
1, Wildcat, Arlington, Va., Andy Lemeshewsky, 66.765;
2, Justo-A-Guest, Westville, N. J., Jim Filbey, 65.217;
3, Runnin Bear, Hamiltan Square, N.J., Dick Newell, 61.517.
(Second Elimination)-
1, Mr. Neon, Massapequo, N. Y., Bill Boyonce, 62.981;
2, Tempest, Berlin, N. J., Andy Miller, 61.350;
3, Vagabond, Narristawn, Pa., Walt Struzek, 59.289.
(Final Heat) -
1, Justa-A-Guest, 67.517;
2, Wildcat, 63.604;
3, Mr. Neon, 60.934.
(Final Standings) -
1, Justa-A-Guest, 700;
2, Wildcat, 625;
3, Mr. Neon, 527
E SERVICE RUNABOUTS
First Heat -
1, Second Mortgage, Miami, Fla., Buddy Pumo, 62.500 m.p.h.;
2, E-Z-Duzit, Wash- ington, Billy Pratt, 60.120,
3, True Ann, New Orleans, Gerry Melta, 58.064.
Second Heat-
1, True Ann, 62.893;
2, High Hopes, Hayes, Va., W. S. Thomas, 61.813;
3, Second Mortgage, 56.250.
Final Standings -
1, True Ann, 625;
2, Second Mortgage, 625 (True Ann wins with better elapsed time);
3, High Hopes, 469.
F SERVICE RUNABOUTS:
First Heat-
1, Scandal, Arlington, Va., Harold Satterfield, 63.920;
2, Violator, Williomsville, N. Y., Curt Brayer, 62.327;
3, Oh-Mona, Miami, Del Daily, 61.601.
Second Heat -
1, Scandal, 64.609;
2, Oh-Mona-Too, Richord Cooper, 64.056;
3, Violator, 57.252.
Final Standings -
1, Scandal, 800;
2, Violotar, 525;
3, Oh-Mona-Too, 469.
150 HYDROS:
First Heat-
1, Dixie Boy II, Hyattsville, Md., Charlie Miller, 63.784;
2, Woody Jr's Special, Cambridge, Md., Elwood Pliescott Jr., 63.425;
3, Jack McMahn, Phila., 62.370.
Second Heat-
1, Woody Jr's Special, 65.359;
2, Jack McMahn, 64.795;
3, Spook, Dublin, Pa., Bob Walter, 60.566.
Final Standings -
1, Woody Jr's Special, 700;
2, Jack McMahn, 525;
3, Dixie Boy II, 400.
266 HYDROS:
First Heat -
1, Miss Washington, D. C., Wash., D. C., Frank Vernon, 72.115;
2; Unicorn, Haven Beach, N. J., Charles Strickland, 70.810;
3, Jackie B., Dayton, Ohio, Dave Thomas, 68.078.
Second Heat -
1, Wee Tonmy Tucker, Pasedena, Md., Eddie Alexsandrowicz, 72.347;
2, Unicorn, 72.000;
3, Jackie B., 64.982.
Final Standings -
1, Unicorn, 600;
2, Wee Tommy Tucker, 569;
3, Jackie B., 450.
Governor's Cup Regatta
An estimated 5000 spectators witnessed the 4th annual Illinois Governor's Cup Regatta staged this year on Pistakee Bay, McHenry, Ill., Oct. 6. Lou Portalski of Antioch, driving the nation's top SK racing runabout Greyhound, edged out last year,'s top boat Long Gone to win his second Governor's race in a row. This was one of the closest power boat events ever
held as Portalski came from behind to win the race by seconds.
The APBA regatta was sponsored by the Chain O'Lakes Boat Club of Fox Lake. Co-hosts for the event were Pink Harrison's Resort and the Oak Park Hotel.
.Frank Davis, the boat safety supervisor for the Illinois Dept. of Conservation, was on hand to present the Governor's Cup as Gov. Otto Kerner was unable to attend due to previous commitments.
Portalski, the "Grand Dad" of SK boat racing, is leading in points across the nation in the Chrysler powered Raysoncraft hull. This 90 mph SK racing runabout is owned and maintained by Bob and Dick Flood of Skokie.
The winning 150 hydrgplane was Daisy Mae driven by Sharon Mims of Miami, Fla. As one of the few women competing in inboard power boat racing she displayed excellent driving ability to win with very keen competition.
Peter Mistretta of Chicago in his El Toro won the very competitive E racing runabout event. Mistretta took the checkered flag after two of the nation's top boats were disqualified. Jug Kelly of Chicago in Steel City Special and Charles Gerage of Chicago in El Matadore were guilty of turning into the pit area before the race was over.
Two accidents marred the almost perfect regatta. Tom Blickel of Chicago in Tom Cat flipped in the north turn but was unhurt. Dave Thomas of Dayton, Ohio, was thrown from Sayonara, a 100 mph 280 hydro, as he entered the first turn in the free-for-all. Thomas was taken to McHenry Hospital with a badly lacerated leg but was up and around for the trophy presentation.
Calm water, perfect weather and a number of competing boats made this one of the finest regattas ever held on the Chain O'Lakes.

SK Rac. Run. -
1, Greyhound, Lou Partalski Antiach;
2, Long Gone, Les Brown, Oak Lawn,
3, Spider, Jahn Stone, Glenview;
4, Heco Go, A. Haines, Memphis, Tenn.
E Rac. Run. -
1, El Toro, Peter Mistretto, Chicago;
2, Twinkie, E. J. lender, McHenry;
3, El Matadore, Charles Gerogo, Chicago.
280 Hydro -
1, Sayonara, Dave Thomas, Dayton, Ohio;
2, Wing Ding, Jim Thompson, Ingleside;
3, White Mule, Lenny Ryden, Schiller Park.
150 Hydro -
1, Daisy Mae, Sharon Mims, Miami;
2, Raw Hide, Wally Johnson, Crystal Lake,
3, Miss Mouse Trap, Frank Kassaw, Ottawa.
Free-For-All-
1, Long Gone, Les Brown, Oak Lawn;
2, Poor Excuse, Pat Johnson, Chicago.
-George Kreissl
High Point Standings
The following tabulation of national high points is based on summary sheets received at National Headquarters as of Oct. 7
UNLIMITED
Miss Bardahl, Bardahl Chemical Co., Seattle, Wash. 2025
Gale V, Gale Enterprises, Detroit, Mich. 1800
Tahoe Miss, Harrah's Club, Reno, Nev. 1395
Miss Exide, Milo Stoen, Seattle, Wash. 1394
Notre Dame, Dr. Fraser McDonald, Detroit, Mich. 1228
,
INBOARD
7 Litre
The Redskin, Ted Bowhay, Seattle, Wash. 4319
Miss Desoto, William Sterett, Owensboro, Ky. 2200
Miss Vitamilk II, William Brow, Seattle, Wash. 2169
Annie's Dodge, Ed Johnston, Spokane, Wash. 2113
Chrysler Queen, George Byers, Sr., Columbus, Ohio 1800

280 Hydro
Hurricane, John J. Mason, Bethesda, Md. 8315
Wildcat, Andrew A. lemeshewsky, Arlington, Va. 7909
Water Scamp, Ben lange, Seattle, Wash. 6190
Sayonara, Dale Burnison, Renton, Wash..4065
Beverly Ann IV, Sidney Johnson, Cambridge, Md. 3613

266 Hydro
Wa-Wa-Too, Wm. A. Ritner, Sr., Gladwyne, Pa 5957
Miss Washington D. C., Carl E. Henderson,
Washington, D. C. 5390
Apache, Michael Thomas, Harvey Cedars, N. J..4665
Holy-Smoke, Earl Wham, Spokane, Wash. 3800
Skitter, Don Ward, Torrance, Calif 3259

225 Hydro
J. J. Special, Fred Wright, Seattle, Wash. ..4869
High Winder II, Ed Morgan, Jr., Trenton, Mich. 4269
Miss Treated, William E. legg, Seattle, Wash. 3309
Gee Whizz, Bob Johanson, Benton City, Wash. .2829
Cobalt, Justin C. Schaller, Detroit, Mich. 2000

150 Hydro
Avenger 6, Randy Meyer, No. Hollywood, Calif.. 5021
Rowdy, Paul H. Flohn, E. Orange, N. J... 4078
High Hopes, Jack Hess, Seattle, Wash. 4000
Woody Jr's. Special, Elwood J. Pliescott, Jr., Cambridge, Md. 3696
Ulua-Kai II, Francis Coneeny, Carney's Pt., N. J.. 3573

145 Hydro
Red Top, Robert E. Tuttle, North Port, N. Y. 8700
Lil' Squirt II, R. Bruce McDonald, Seattle, Wash... 8288
Lil' Lectron, Willard S. Wilson, Jr., Wilmington, Dela. 4894
Fly'n Bucket, V. Paul Bequette, San Diego, Calif. 4590
Bonanza III, Steve Sharp, Havre de Grace, Md...431

91 Hydro
Southern Air V, F. C. Moor, Hialeah, Fla 1000
Ergo, Alan Robinson, St. Petersburg, Fla.. 696
Gene Fleming, Sarasota, Fla 625
Petunia, Sam B. Newman, St. Petersburg, Fla 521
Dragon, Sam Crooks, Madeira Beach, Fla... 300

48 Hydro
Short Snort, Lynn E. Montgomery,
Federal Way, Wash. . 5679
Southern Air IV, F. C. Moor, Hialeah, Fla 5350
Piranha, H. V, Eastman, Tustin, Calif 4000
Voodoo II, Jack Philpott, Seattle, Wash 3925
Kat-N-Nan II, Paul Bauer, Deerpark, Ohio ..3925
Block Buster, William Block, Northfield, N. J 3427

44 Hydro
Tach-1, Ray P. Myers, York, Pa. ...8088
Da-Ro-Be, Robert Overdorf, Montgomery, Pa.. 6432
Bad News, Lewis Darr, Manchester, Pa 2969
Calamity Jane II, Horace Burgard, York, Pa. 2817
Fayda I, Dan Bertolette, Norristown, Pa. 2138

44 RUN.
Gotta Go V, Ennie Argence, New Orleans, La 1900
Angela D, Frank Tullos, New Orleans, La 1125
Pinkie, Billy R. Overby, Metairie, La 900
Miss-Take, Joe Hartdegen, New Orleans, La 769
Lil Rebel, Fred Wichers, Jr., Gretna, La.. 169

Cracker Box
Hot Cindrs, LeRoy Penhall, Anaheim, Calif. 5900
Hot Box, Les Jeboult, New Westminster, B. C... 3509
Rebel, Gary Robarge, Provo, Utah.., 3252
Big Deal, Don West, Pleasant Grove, Utah .2394
Buckshe, Max Douet, N. Burnaby, B. C.2238

Jersey Speed Skiff
Jo-Carol Too, Dan Ardolina, W. Long Branch, N. J 4950
Jo-Ann, Joseph Julian, Atlantic Highlands, N. J.,..3525
Blacky Carbon, Fred Zbranak, Linden, N. J 2150
Restless, Peter Deppert, Hasbrouck Heights, N. J 1390
Blue Chips, Jack Sweeney, Rumson, N. J 1203

Ski. Rac. Run.
Greyhound, Robert Flood, Skokie, IL, 4225
Das' Fireschpitten Loudinboomer, Joe Maybrown, Long Beach, N. Y 3619
Chic Sails, Fre~ Clute, Portland, Ore 3186
Suddenly, Anthony M. Maricich, San Pedro, Calif. 2925
Poor Excuse, Deon Guerine, Melrose Park, III... 2886

B Rac. Run.
Lil' Bee, Ernie Rose, Patterson, Calif :.: 3500
Stand In, Natl Tabar, Westley, Calif ' 1950
Slide Rule, Olen Miller, Modesto, Calif 1675
B-Flat, Rollin W. Robinson, Modesto, Calif : 1130
B Bop, John Fay, Healdsburg, Calif 619

E Rac. Run.
Daddy's Baby, Joe Poty, Whittier, Calif... 3700
El-Toro, Peter J. Mistretta, Chicago, IL 3563
El Matador, Charles Gerage, Chicago, 111 3200
Riff Raff, Laurence Byward, Costa Mesa, Calif 2700
My Stardust, Wes Knudson, Provo, Utah 2000

E Ser. Run.
Second Mortgage, Ben Puma, Miami, Fla 4407
High Hopes, W. S. Thomas, Gloucester, Co., Va. 2075
Dinah-Might, S. R. Boswell, Miami, Fla 2007
Trice Ann, Albert D. Flair, New Orleans, La 1800
Frustration, J. D. Wooldridge, Miami, Fla 1544

F Ser. Run.
Scandal, Wm. Bourne, Coral Gables, Fla... 5625
Oh! Mona, Del Daily, Miami, Fla 3109
Miss Conncraft, Robert Conn, No. Miami, Fla 2175
Violator, Ted Brayer, Snyder, N. Y 1400
Oh! Mona Too, Del Daily, Miami, Fla , 844


**SWAPSHOP**
USED BOATS
AND EQUIPMENT
Minimum $5.00
15 Cents Per Word

FOR SALE -Long Gone, SK-l, 43 firsts out of 48 heats finished. This better than new 16' Rayson Craft handles like nothing you've ever driven. Only 2 heats on a new Swede Stromstedt engine. For a typical picture see last month's Region Seven News in the Pro- peller. If you want the winner you can't afford to pass this bargain, $3,500. Les Brown, Now that I think of it, I hope nobody calls!

FOR SALE -Selling Out! Quitting racing. I have 280 complete with Chevy, 225 complete with Studebaker "Time 'Flies," 48 Hydro with Crosley. All above with trailers. "Time Flies" a record contender can be had as a 266 Stude. Parts -rudders, props, shafts, instruments, steering, tanks, flex lines and misc. engines and parts. Allor part. Jake Ouriel,

FOR SALE-The "TWISTER", SK-Class 17' Spico w/a hdwe. all racing equip. chromed. 1963 Pontiac full race 421 Pontiac racing heads. Vertex Mag. Edlebrook ram intake manifold. 6 Stromberg 97 carbs. 505 Isky magnum cam. Cary prop. No more time to race reason for selling. An $8M speedy beauty. $4,500 swings the deal. Chuck Freeman

FOR SALE-7 Litre "Wildcatter", twice National Champion, twice High Point Winner, Winner National Sweepstakes, twice Governor's Cup Winner, former World Straightaway Record Holder, former World Competition Record Holder. Completely rebuilt, all aluminum, 427 cu. in. Fageol engine including 671 GMC lower width Hilborn fuel injection, new paint, aluminum bottom, ready to race. Burnett G. Bartley, Jr., Pittsburgh 38, Pa.

FOR SALE-280 cu. in. formerly world record breaker Briar Hopper, now named Southern Planter. Perfect shape and running 95 m.p.h. plus. Boat, motor, trailer ready for Florida circuit, $1,695. Offers considered. Call or write Al D'Eath

FOR SALE-280, new this year, Stevenson engine. Over 1011/2 mph through traps at Norristown. Has beaten top 280's in Region 3 and 4. Will sell with or without engine. B. J. Tool, Jr.

FOR SALE-280 cu. in. Hydro "Beverly Ann IV" Farmer Hull new last year. Engine 0.060 over new this year. One of the fastest 280's in the country. Six first out of eight starts this season. Excellent condition. Steel trailer electric brakes. Due to circumstances beyond my control I cannot continue racing at this time. Price $2,100. Sidney Johnson,

FOR SALE -280 Hydro, E-98, Pokey, Sooy hull. Boat complete with all hardware (less engine and prop) and Custom trailer, $900. Pictures on request. Contact H. R. Boggs, Jr.

FOR SALE-16 ft. Rayson-Craft SK, absolutely gorgeous condition. Keith Black Chrysler, less than one hour since overhaul. Casale 12% in and out gearbox, Custom trailer, cover, etc., $4,700. Contact Charlie Dunn, Jr.